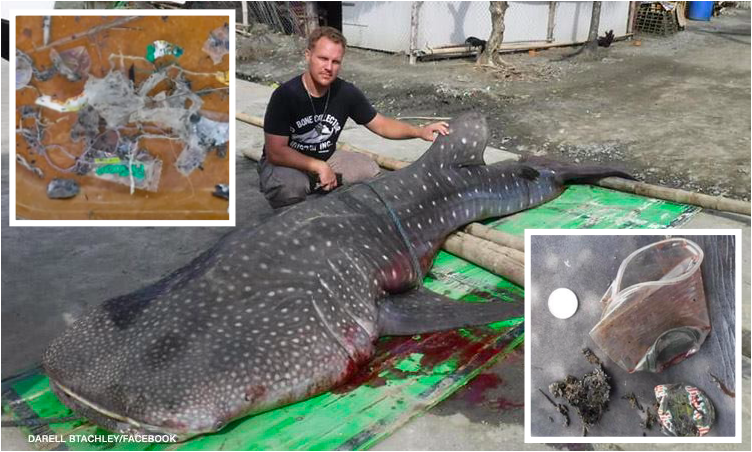 The emaciated body of a juvenile whale shark found off the coast of Tagum City died after swallowing plastic waste.
Various scraps of plastic items were found inside the belly of the 14-foot shark, known locally as a 'butanding', which washed up in Davao del Norte province early in the morning on Tuesday, August 7.
A post-mortem conducted by marine biologist Darrell Blatchley, bone collector and owner of D'Bone Museum in Davao City, confirmed that the plankton-eating giant died due to plastic ingestion.
Mr Blatchley has investigated the deaths of numerous whales, dolphins, turtles and sharks over the past nine years. He said the causes of death were commonly the result of "irresponsible human activities".
These range from dynamite fishing to plastic ingestion and other causes.
Writing on Facebook yesterday, the environmentalist said: "August 7 a 14 foot long Juvenile Whale Shark was found dead near Tagum City. The necropsy was performed and I am angry. 
"In the last 9 years I have done the Necropsy of 60 whales and dolphins. Countless Turtles and a Megamouth Shark and now a Whale Shark. 
"The thing ALL BUT 12 had in common? Man caused their death. Fishing nets, speared, dynamite fishing, and Plastic ingestion. Nothing changes. The posts get shared. You get the sad faces [emojis] but then the trash still gets dropped. 
"Cause of Death for the Whale Shark??? First picture shows the first piece pulled from the stomach!!!"
He added that some of the items could be directly traced to Philippine products. "The large plastic cup and jello plastic blocking the gills. Had to be pried out. The rest were inside the stomach blocking the fine filters of the intestines," he said.
He also said that the whale shark was underweight and emaciated.
The Bureau of Fisheries and Aquatic Resources will keep a sample of the fish for further study.
"DNA samples will be kept for national BFAR the rest of the remains buried as the skeleton is cartilage and almost impossible to be used for preservation," Mr Blatchley said.
As we reported last September, Greenpeace named the Philippines as the third biggest source of plastic pollution in the world's oceans.
Follow our Facebook page for daily news updates
…