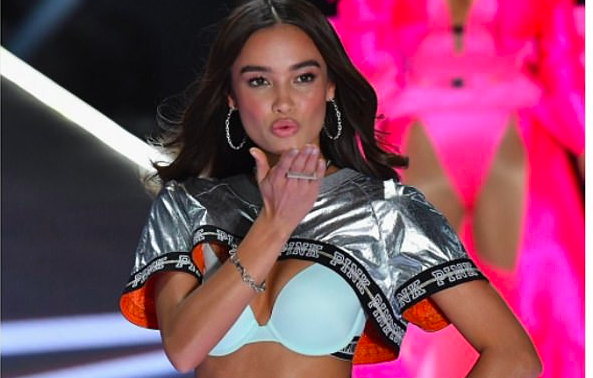 The first Filipina to feature in a Victoria's Secret fashion show has been criticised online for her "Eurocentric features".
Kelsey Merritt, who was born and raised in Pampanga before moving to the USA last year, has hit back at the critics after her debut in New York on Thursday (November 8).  
The 22-year-old model celebrated her casting on Instagram in September, writing: "WE DID IT PHILIPPINES!!!!!! What an honor it is to be the first Filipino to walk in the Victoria's Secret Fashion Show 2018!!! Ahhhhhh I can't believe this!"
While messages of congratulation and Pinoy pride came thick and fast, there was a substantial minority of commentators — mainly female — who criticised her for being "white passing".
Twitter user Kristina Monarc wrote: "My only issue with Kelsey Merritt, is that you can almost see that she's pure American. It would not be that difficult for her to get cast as VS as she fits the ff standards: tall, skinny, and white."
Another Twitter user said: "As much as I'm happy for Kelsey Merritt that she got into VS, I just wish she looked more like the average Filipina. She's beautiful, yeah, but when y'all say 'first Filipia VS model', I kinda wish she wasn't so… white looking?"
And another had this to say: "tbh what's the point of celebrating Kelsey Merritt as the first Filipino to be in VS when she a) is white passing so it's not exactly representation and b) VS is trash anyways?"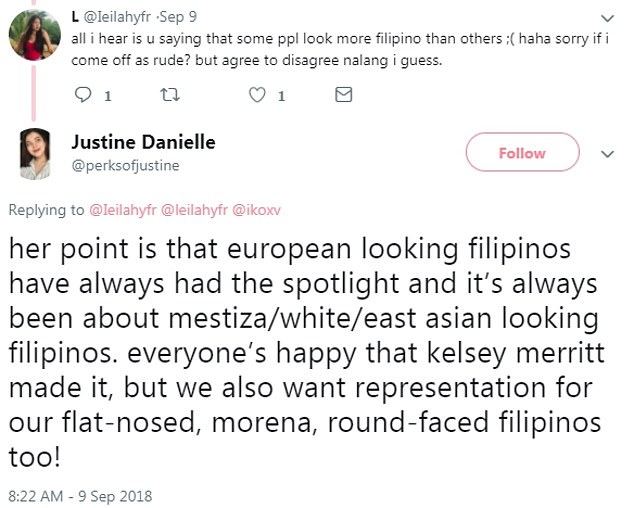 Kelsey — like a substantial proportion of Filipino actors, musicians and beauty queens — is mixed race, having Filipina mother and a white American father.
In an article for Teen Vogue published on Thursday, Filipina writer Isis Briones addresses this trend, noting that "a number of the Philippines' well-known actors, singers, and models are often multi-racial with lighter skin as it fits the country's ideal standards of beauty".
However, many of Kelsey's defenders were keen to point out that she looked more "ethnically Filipino" than most. As one Twitter user put it, she "doesn't look white period. You can talk about the unfair beauty standard of Pinoy community without discrediting that she's Filipina and she [identifies] as one".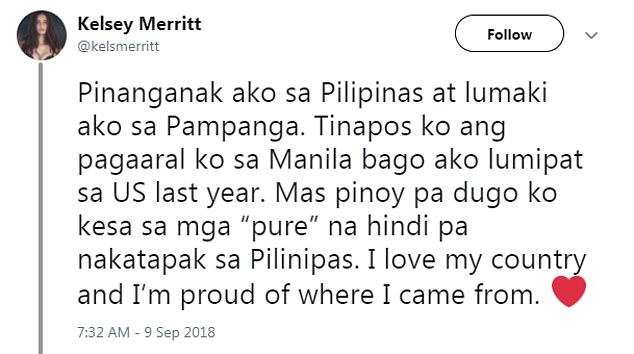 A few days after she announced her inclusion in the catwalk show back in September, Kelsey addressed the backlash. She wrote: "Pinanganak ako sa Pilipinas at lumaki ako sa Pampanga. Tinapos ko ang pagaaral ko sa manila bago ako lumipat sa US last year. Mas pinoy pa dugo ko kesa sa mga 'pure' na hindi pa nakatapak sa Pilipinas.
"[I was born in the Philippines and I grew up in Pampanga. I finished my school in Manila before I moved to the US last year. My blood is more Filipino than the 'pure' who have never set foot in the Philippines]. I love my country and I'm proud of where I came from".
Just hours before the fashion show started on Thursday, she again stood up for herself. She Tweeted: "People will always have their opinion of you despite of who you are… I would love to tell them that I am just me."
Following the Victoria's Secret New York extravaganza, she again took to Twitter to share her joy with fans. Yesterday, she wrote: "Soooo this just happened!!!!! Ahhhhh yesterday was a dream and it so much more than I have ever imagined!!! I can't thank @victoriassecret enough for giving me the opportunity to walk in this year's fashion show!!"
Follow our Facebook page for daily news updates
…