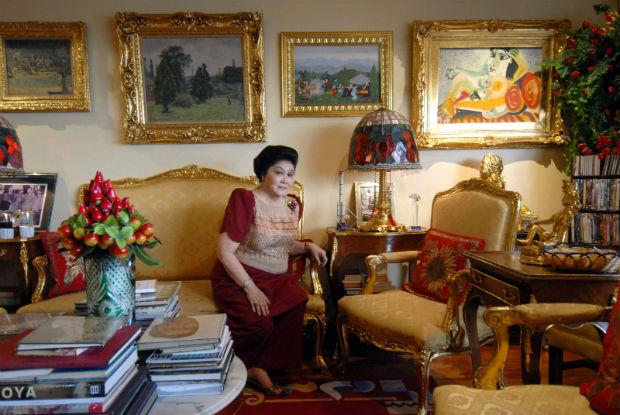 After the People Power Revolution of 1986, Ferdinand Marcos and his family fled into exile in Hawaii aboard a US Air Force C-130.
Upon their arrival at Hickam Air Force Base, the family filled out an official customs list of the "household effects" they had in their possession.
In her book The Marcoses and the Missing Filipino Millions, journalist Caroline Kennedy has looked into the contents of the list, which she said — with some understatement — "reads like pure fantasy".
Among the highlights of the customs declaration were the following "household effects":
22 crates of cash valued at $717 million dollars
300 crates of assorted jewellery (value undetermined)
$4 million dollars worth of unset precious gems contained in Pampers diaper boxes
$7.7 million dollars worth of jewellery, including a gold crown encrusted with diamonds, three tiaras and 65 high-end watches
A box, measuring 12 feet by four feet, full of pearls
A three-foot solid gold statue covered in diamonds and other precious stones
$200,000 dollars in gold bullion and nearly $1 million dollars in Philippine pesos
Also discovered among their luggage were deposit slips worth $124 million dollars for banks in the US, Switzerland and the Cayman Islands
And if what was contained in their luggage wasn't enough, the family had been busy preparing for their departure.
Marcos family prepared for exile
 A week ahead of their flight into exile, 2,000 tons of gold, worth $22 billion dollars, was sent to Australia. However, following a tip off, it was intercepted by Australian customs. 
And over the six months before this, weekly flights transported cash, period furniture, antiques and priceless artworks to Hong Kong.
How much else was spirited out of the country can never be known. However, jewellery worth $250 million was confiscated from a friend of Imelda's who was caught smuggling them out of the country.
In May this year, the House of Representatives voted to scrap the Presidential Commission on Good Government (PCGG) — the body charged with tracking down the Marcos family's plundered wealth. 
Despite this, the search for the missing wealth — the value of which can only be a matter for speculation — continues. 
All throughout the process, Imelda has steadfastly refused to co-operate. As she once told the PCGG: "If you know how rich you are, you aren't rich. I have no idea how rich I am!"
However, now the 89-year-old matriarch has been charged on seven counts of corruption — carrying a maximum sentence of 77 years — will she finally be pressurised to reveal something of her family's hidden wealth?
Follow our Facebook page for daily news updates
…