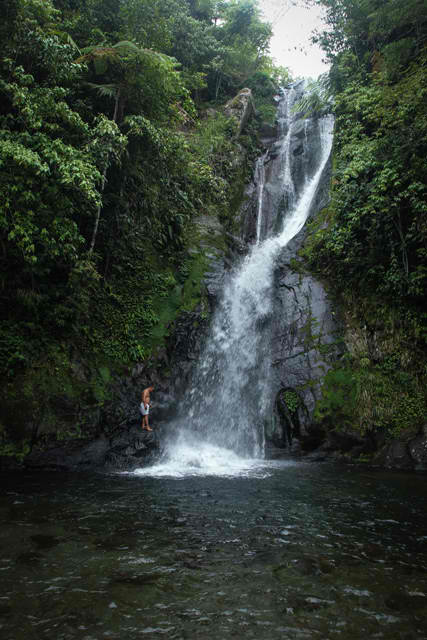 Resting in the beauty of a lush atmosphere, Tawsuvan Falls is a perfect place to get away from it all while visiting the region of North Cotabato. Among the favorite choices of locals due to its ease of access, the multiple falls that pour from  Mt. Apo are endless, but this one is visited more often than most.
In the past locals called this place Bongolanon Falls and though the name has changed, this place is still one of the most beautiful and untouched falls on the island of Mindanao. Positioned outside of Kidapawan, Tawsuvan Falls is a must for those that are taking the ultimate bucket list of waterfalls ventures in the Philippines.
The trip into the falls is much better in recent years due to the upgrading of the roadways. Even Bagobo, the small village near the falls, has more than doubled in size over the last decade.
Today the cost of entering the falls is 20 pesos, so that alone is a welcome surprise for visitors. The weekdays at the falls are the best, but holidays and weekends the crowds are known to hit several hundred, so best to go early.
Access to the main falls area has also been upgraded. Cement steps to the water's edge as well as cottages and huts for rental are just steps away.
In all, there are 18 waterfalls in the Magpet region at the foothills of Mt. Apo. Several of them are rarely explored; others are simply difficult to reach but Tawsucan Falls in one of the popular ones to enjoy.
Still the most visited of all the falls is Mabu, in Manobo. Not only is Manobo home to one of the most picturesque falls, the impressive drop stands at 400 feet.
Climbers, mountaineers, and trekkers alike come to spend a night in the Tawsuvan Falls before taking the two-day trip up the steep paths of Mt. Apo. Bongolanon is the drop point to the highest peak of Mt. Apo, passing directly through the stunning mossy forest of Bob'ong Trail.
Cottages at the falls cost 100peso per head, per night. Daytime cottages are just 50peso and food is available nearby in the small village, one serving native chicken for 130 peso per kilo and other drinks and amenities. These prices are noted for the 2014-2015 season at Tawsuvan Falls.