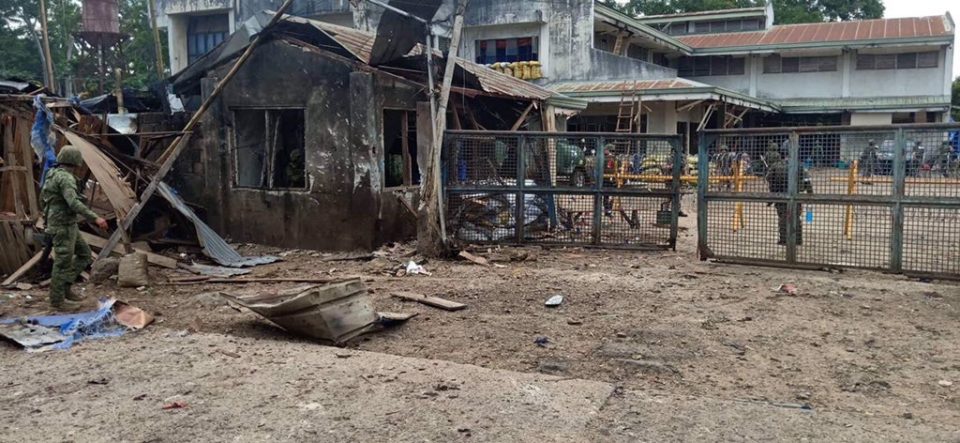 Eight people, including three soldiers, were killed and at least 12 injured in an Islamist suicide bomb attack at a Sulu Island Army base.
Regional military commander Major General Cirilito Sobejana said today (Friday, June 28) that Abu Sayyaf terrorists are believed responsible for the attack on the headquarters of the Army's 1st Brigade Combat Team in Indanan town.
Exact details of the attack at noon today remain unclear, but it is believed the explosion involved a pair of suicide bombers targeting the gateway to the base.
Eyewitnesses have described how one of the militants was accosted by troops but managed to detonate his bomb while the second dashed into the camp and detonated an explosive near a parking lot.
The attack was reportedly followed by a firefight that lasted for about an hour, as other militants — believed to be linked to the suicide bombers — opened fire on the camp.
Maj. Gen. Sobejana said troops were still working to verify exactly what happened.
"Ground troops continue to establish the circumstances and identify the perpetrators behind this inhumane attack," he said. "We will intensify our offensives to crush terrorist groups that hamper the stability and development in Sulu."
As well as the three soldiers killed, the other victims included a trike driver and a female street vendor. Both suicide bombers were killed.
It is believed that Abu Sayyaf is reduced to fewer than 400 fighters following months of military offensives on its traditional stronghold on Sulu. It is also the first time in several years that the terror group is not holding any foreign hostages.
As we reported in May, Ewold Horn — a Dutchman who had been held captive since 2012 — was killed while trying to escape during a gun battle with government troops in Patikul town. The clash also cost the lives of at least six terrorists, including Abu Sayyaf commander Radulan Sahiron.
The renewed military efforts against the Islamic State-affiliated terror group were launched after a twin suicide bomb attack on Jolo Cathedral in January, which killed 21 worshippers.
Also today, Vice Admiral Gaudencio Collado, armed forces vice chief of staff, said that soldiers posted to Sulu would receive hazard pay equivalent to half of their base pay.
Follow our Facebook page for daily news updates
…