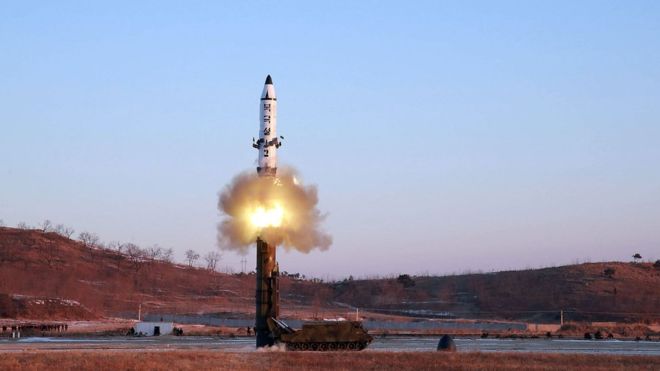 North Korea has fired another ballistic missile into the Sea of Japan, South Korea's defence ministry has said, days after Pyongyang warned of retaliation if sanctions were increased.
"At 6.42am today (Wednesday, April 5), North Korea fired a ballistic missile from Sinpo area into the Sea of Japan," the ministry said in a statement.
It said the missile had flown about 40 miles before landing in the sea. South Korean and American investigators are now analysing its flight path to determine its type.
"The military is keeping a close watch over North Korea's provocative moves and maintaining a high defence posture", it said.
The launch is likely to fuel international concerns about North Korea's nuclear weapons programme.
Pyongyang is committed to develop a long-range missile capable of hitting the US mainland with a nuclear warhead, and has staged five nuclear tests.
Today's launch comes after President Trump vowed that the USA would "go it alone" to rein in North Korea unless China takes some decisive action to tame Kim Jong Un's regime. His threat is ahead of a meeting between the president and his Chinese counterpart Xi Jinping in Florida tomorrow.
North Korea's foreign ministry hit back at Washington for its tough talk, and also for the ongoing Eagle Foal military exercises with South Korea and Japan, which Pyongyang considers to be a dress rehearsal for invasion.
The "reckless actions" are driving the tense situation on the Korean peninsula "to the brink of a war", a ministry spokesman was quoted as saying by the state-run KCNA news agency.
The idea that the US could deprive Pyongyang of its "nuclear deterrent" through sanctions is "the wildest dream", it said.
Trump and Xi will hold their first face-to-face meeting tomorrow at the president's Mar-a-Lago resort in Florida. Growing tensions on the Korean peninsula are certain to be high on the agenda.
The hardened US stance followed recent North Korean missile launches that Pyongyang boasted were designed to simulate an attack on US bases in Japan.
In February, the North simultaneously fired four ballistic missiles off its east coast, three of which fell worryingly close to Japan.
Last August Pyongyang also successfully test-fired a submarine-launched ballistic missile towards Japan, in what Kim Jong-Un hailed as the "greatest success".
A nuclear-capable submarine-launched system would take North Korea's threat to a whole new level, allowing deployment far beyond the Korean peninsula and a "second-strike" capability in the event of any attack.
Pyongyang is barred under UN resolutions from carrying out ballistic missile launches or nuclear tests.
READ MORE: