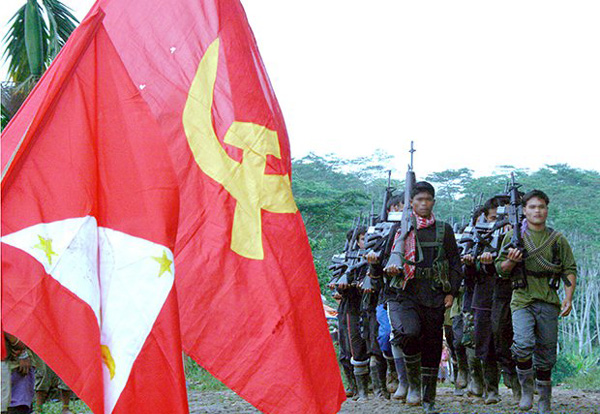 The Philippine government and Communist rebels have struck a deal for a temporary ceasefire after talks in the Netherlands today (Wednesday, April 5).
When informed of the breakthrough, President Duterte invited Communist leader, Jose Sison, to return home from his exile.
Communist New People's Army (NPA) rebels have been waging guerrilla warfare for nearly five decades, resulting in the deaths more than 40,000 people.
Peace talks between the rebels' political arm, the National Democratic Front, and the government, brokered by Norway, resumed this week in the Netherlands after numerous false starts.
Writing on Facebook today, Jesus Dureza, presidential advisor on the peace process, said a deal had been done and approved by the president.
It is the first time the two sides have agreed on a bilateral truce since November 1986, when the government and rebels signed a 60-day ceasefire.
However, that deal was scuppered the following January after police opened fire and killed 13 farmers during a protest in Manila. (Read more about the Mendiola Massacre here.)
It is believed that the government has agreed to free 23 elderly and sickly NPA prisoners, while the rebels in turn have offered to release three soldiers and a police officer taken captive in Mindanao.
Welcoming the news, the president said of Sison, his former college tutor and founder of the Communist Party of the Philippines: "He can come home. I'll give him freedom of movement. I will not arrest him. I'll even pay for his hospitalisation if he wants."
However, he reiterated his red lines for the peace process to continue: "First is to stop the revolutionary tax. I'm getting humiliated. So if you continue, we'll really clash.
"Second is release all prisoners. They said they'll do that within the next two days.
"Third is do not claim any territory… as an administrator of government, I own all lands here. Do not claim any territory. Because when soldiers and civilians enter an area, the communists claim it's their territory."
Peace talks between the two sides have been described as "intermittent and inconclusive" since 1986. They resumed in earnest last August, when the president released 19 rebel leaders from jail.
However, these talks were scrapped in February after rebels ambushed an army convoy, breaking a unilateral ceasefire that had held for five months.
Intermittent clashes have been reported right up until the resumption of talks on Sunday.