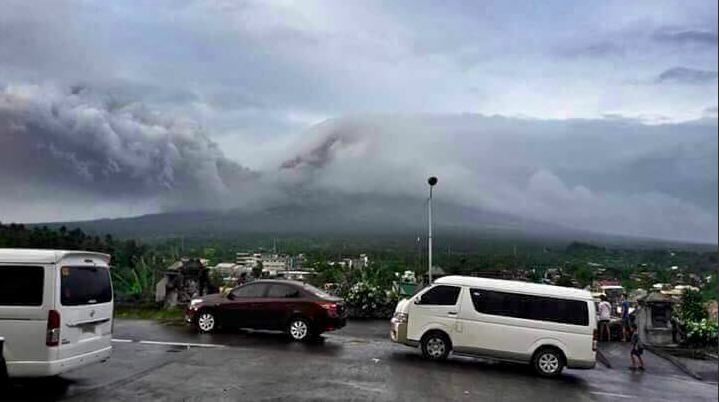 UPDATE: Phivolcs has raised the alert status of Mayon Volcano from Alert Level 2 to Alert Level 3.
"For the past 24 hours, Mayon Volcano in Albay province has noticeably increased its unrest. After three phreatic eruptions and 158 rockfall events between 4.21pm (January 13) and 7.25pm (January 14), Mayon's summit crater is now exhibiting bright crater glow that signifies the growth of a new lava dome and beginnings of lava flow towards the southern slopes," the agency said in an advisory on Sunday.
People living near Mount Mayon has been ordered to evacuate their homes amid increasing volcanic activity.
The Philippine Institute of Volcanology and Seismology (Phivolcs) has raised its alert level status from 1 to level 2 as the volcano began to spew ash and steam.
Mayon, known as the Fuji of the Philippines due to its near-perfect cone shape, had "phreatic or steam-driven eruption" yesterday (Saturday, January 13) and there was a further eruption today.
Yesterday's eruption unleashed ash, rocks and a strong smell of sulphur. It was followed by rumbling sounds and a faint glow in the crater, Phivolcs said.
Alert level 2 means that current activity is "probably of magmatic origin, which could lead to more phreatic eruptions or eventually to hazardous magmatic eruptions".
A second ash eruption was recorded this morning, but Phivolcs has not yet raised the alert level any further.
Mayon's biggest eruption was in 1841, when lava flows buried a town, killing 1,200 people. It last erupted in 2014.
"The public is strongly advised to be vigilant and desist from entering the six kilometre (3.7 mile) radius Permanent Danger Zone to minimise risks from sudden explosions, rockfall and landslides," Phivolcs said in a statement today.
It advised people experiencing ashfall to cover their noses and mouths with a damp, clean cloth or dust mask. It also ordered aircraft to give the volcano a wide berth.
People living close to the volcano, but outside the official danger zone, were told to take precautionary measures against roof collapses due to accumulated ash and rainwater.
Phivolcs chief Renato Solidum said the volcano may be due for an eruption as it had been displaying abnormal behaviour for several month.
Despite this, Cedric Daep, head of the Albay Provincial Disaster Risk Reduction and Management Office, said people in evacuation centres may be allowed to return home later today, unless Phivolcs raised the volcano alert level further.
"We have not reached the critical level," he said in a radio interview. "Alert level 3 is what we considered critical, 4 is when eruption is imminent, and 5 is eruption in progress."