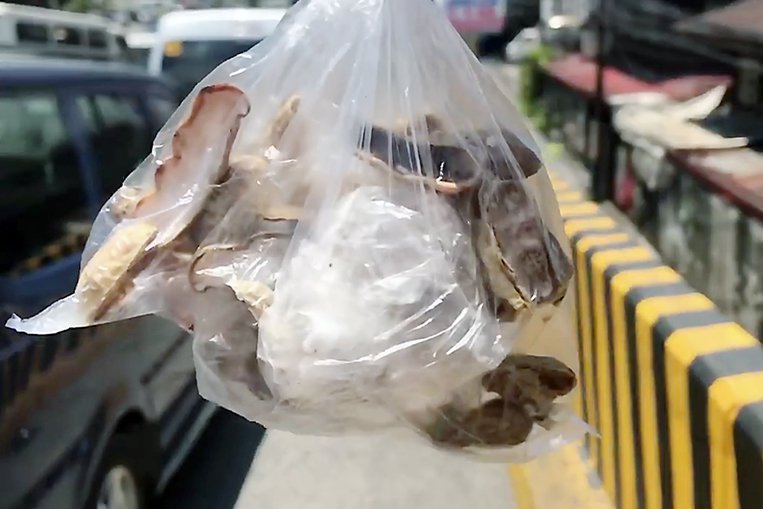 A German living in Manila pursued a van on his bicycle to return a plastic bag of rubbish that had been dumped onto the street.
Frank Schuengel, an e-commerce executive, said he was aboard his bicycle on the Makati-Mandaluyong Bridge when he spotted the plastic bag being thrown from a window of the vehicle.
Writing on visor.ph on Friday (April 12), he said: "The other day, I was cycling to work when the passenger of a van in front of me decided to discard a small plastic bag full of rubbish by simply throwing it out of his window and onto the street.
"Being the friendly chap that I am, I picked it up, went alongside the van with my bicycle, and handed the garbage back to him with a firm request to place it in a proper bin instead."
Mr Schuengel also captured last Wednesday's encounter on video, writing: "If you don't want a 6 foot 1, 200 pound German knocking on your car window, then don't do this. Simple." 
The footage has since gone viral and drawn widespread praise for his actions. He has since said: "As flattering as everyone's reaction is, the pollution problem in this country won't be solved by one bloke on a bike. It will take all of us to make a difference.
He also responded to some commenters who had expressed embarrassment that it took a foreigner to take action while Filipinos continued to pollute their own country. He wrote: "The 'foreigner' factor no doubt helped the video go viral, but humans either pollute or clean up regardless of the passport that is in their pocket. 
"Trash doesn't care about anyone's citizenship, but it harms all of us, so let's all try and do something about it."
On Friday, we reported on another foreigner living in the Philippines tackling the nation's waste problem.
Marine biologist Darrell Blatchley drew widespread support when he began cleaning the streets of his neighbourhood in Davao.
After increasing numbers of volunteers began to join his clean-up campaign this weekend, he said: "The problem is lazy people. From barangay captains who don't enforce the laws and sit in their offices to the lazy people who see canals as the trash can. It's a nation's problem."
Last month Mr Blatchley, owner of the D' Bone Museum, made headlines across the world after he pulled more than 80 pounds of plastic waste from the stomach of a whale during an autopsy.
Follow our Facebook page for daily news updates
Would you do something about it?

Many of us just rant and take photos/videos for social media without doing anything of consequence. Our writer Frank Schuengel (a German) cares about our roads so much that he actually does this on a regular basis. We wonder how many of us would do the same. ?

Posted by VISOR on Wednesday, April 10, 2019