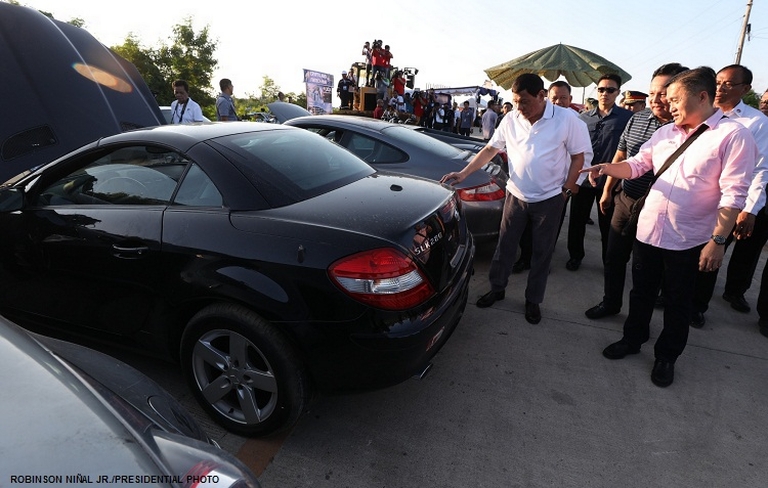 A fleet of Hummers and some luxury vans were spared destruction after President Duterte earmarked them for police and military use.
As we reported yesterday (Tuesday, July 31), the president looked on as 68 luxury vehicles and eight motorcycles worth nearly 300 million pesos were crushed at Port Irene in Cagayan.
In an apparent U-turn on his strict policy of destroying smuggled vehicles, the president announced that he had instructed Cagayan Economic Zone Authority administrator Raul Lambino to spare the Hummers.
Speaking during a commemorative event at the Philippine International Convention Center in Pasay City last night, he said: "I said, do not destroy it because I'll give it to the military and the police for their use." 
The vans, he added, were due to be given to the local government in Cagayan. "Then the vans, because they are within the vicinity of the local governments, these are for Cagayan. Divide these among themselves," he said.
The president reiterated that the policy of destroying luxury vehicles was part of his fight against smuggling and corruption.
"I will really go after graft and corruption. I was there in Cagayan yesterday to destroy — so that it will be finished. 
"The issue of smuggling kept on coming back and then nobody will get. Then right after a few months, the action office will announce that it would sell. So I said, 'Stop it because nothing gets there'," he said.
He also vowed to continue his election promises to campaign against corruption, drugs and criminality.
"I do not have the luxury of slowing down even or just ignore what I promised because that gave me victory. I could not be a traitor, turn my back on my promises," he said.
Returning to his familiar theme of illegal drugs, he urged human rights advocates to consider the lives of cops killed in action.
"And every day, I lose one or two policemen or soldiers from events or incidents connected with drugs," he said.
He also warned uniformed personnel not to get involved in illegal drugs or murder-for-hire.
"You can be very sure there will be a project for you and really that is to neutralise or terminate you. If I will not do it, nothing will happen to our country at this time when we are all bombarded with drugs, nobody seems to obey the law," he said.
Follow our Facebook page for daily news updates