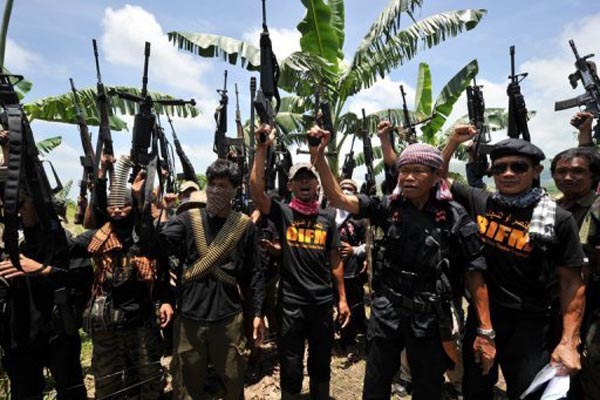 Islamic State-affiliated gunmen who stormed a school yesterday (Wednesday, June 21) left messages threatening President Duterte and his home city of Davao.
After the clash near Pigcawayan town in North Cotabato, in which 31 hostages – including 12 youngsters – were briefly taken as human shields, militants from the Bangsamoro Islamic Freedom Fighters (BIFF) wrote on a blackboard: "Shoot to kill ka namin DU30 (Our order is shoot to kill Duterte)."
Elsewhere in the classroom was written: "Kahit saan humingi ng tulong si DU30 di niya kami kayang ubusin…mag-ingat ka isusunod namin ang Davao (No matter where Duterte seeks help he cannot wipe us out… beware Davao is next)."
It is believed the attack, in which six militants are thought to have been killed, was a diversionary tactic to ease pressure on the terrorists fighting in Marawi, which is about 120 miles to the north.
The militants also desecrated a nearby Catholic chapel. Parish priest Father Dominic Villa said: "Malagakit chapel was devastated after the BIFF attack. Statues were broken and consecrated hosts scattered around the altar.
"It is a clear disrespect and desecration of the sacred place for worship. What we need is respect."
Father Villa also said that text messages had recently been circulating threatening of a plan by BIFF to attack Malagakit.
"About two weeks, residents have been evacuating at night, leaving the males behind to take care of their properties," he said.
Father Villa said Barangay Malagakit recently had its patronal fiesta but due to fears of an attack by the BIFF, he instead held the event at the main church in Poblacion, Pigcawayan.
Pigcawayan Mayor Eliseo Garcesa also confirmed that text messages about a BIFF attack had been circulating.
One of the civilians, Bai Wahim, a resident of Malagakit, told reporters they were herded by armed med carrying the black flag of IS into the elementary school.
"My house is near the school. We were herded there, all that the gunmen could grab were ordered to proceed to the school for our safety, they said," Mrs Wahim, herself a Muslim, said.
"We were all there in the room, told to sit on the floor, Muslim and Christian residents, we were all together," he said, adding that Muslim and Christians live harmoniously in the village.
"We have no conflict there, we live together peacefully. In fact, there were inter-marriages among Maguindanaons and Ilonggos, until the BIFF arrived," she said.
Residents complained their homes had been ransacked by the gunmen while nearby stores were looted of food.