The embassy of china in Denmark took offence and wanted the Danish daily newspaper Jyllands-Posten to apologise for a chinese flag with its five yellow stars represented by coronavirus particles cartoon it published.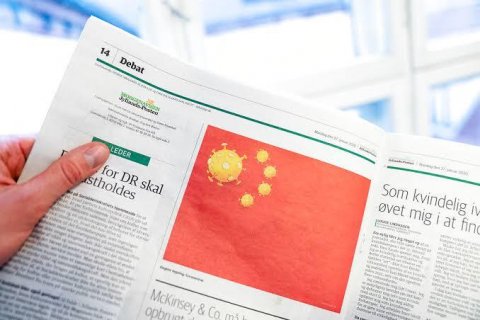 The embassy lambasted Jyllands-Posten and Danish artist Niels Bo Bojesen for the cartoon entitled "Coronavirus" in the newspaper's Monday edition.
"Without any sympathy and empathy, it has crossed the bottom line of civilized society and the ethical boundary of free speech and offends human conscience," the embassy said on Tuesday.
The Chinese Embassy in Copenhagen also expressed its "strong indignation" and said the cartoon "is an insult to China."
However, Jyllands-Posten's chief editor, Jacob Nybroe said the cartoon did not intend to  "to mock or ridicule China."
"We have no intention of demeaning or mocking the situation in China, and we don't think the drawing does that," said Nybroe.
Also read: Immigration stops visa on arrival issuance to Chinese tourists
China offended by Danish newspaper coronavirus flag cartoon
Nybroe added his newspaper "can't apologize for something we don't think is wrong … As far as I can see, there are two different types of cultural understanding here."
Meanwhile, Danish Prime Minister Mette Frederiksen backed-up Nybroe saying freedom of expression in Denmark is a tradition, and it includes such cartoons.
"We have a very, very strong tradition in Denmark not only for freedom of expression, but also for satirical drawings, and we will have that in the future as well," Frederiksen said. "It is a well-known Danish position, and we will not change that."
The newspaper also gathered supports from Danish politicians including Conservative Party leader Soren Pape Poulsen who tweeted, "Full support for Jyllands-Posten."
As of today, there are already 5,974 confirmed cases of 2019 novel coronavirus in China alone. The virus also killed 132 patients already.
The 2019-nCov has spread to Asian countries like Thailand, Vietnam, Singapore, Japan, South Korea, Taiwan, and Nepal. It has also reached the United States, France, and the most recent one, in Germany.