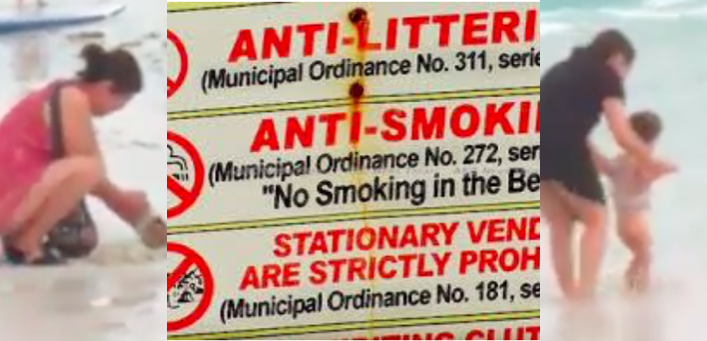 Officials on Boracay are planning to place signs in Chinese and Korean to remind tourists of how to behave on the white-sand island.
The proposal comes after two tourists — believed to be Chinese — were caught on camera allowing a toddler to defecate in the sea and burying a used diaper on the beach.
Today (Friday, August 16) the Boracay Inter-Agency Rehabilitation Management Group (BIARMG) announced a plan for signs spelling out the "do's and don'ts" for visitors.
BIARMG chief Natividad Bernardino told the Philippine News Agency that the rehabilitation group wants to help tourists comply with the island's rules and regulations.
Local police have confirmed that the tourists who featured in Tuesday's "poop" video had violated an anti-littering ordinance that prohibits littering, urinating, defecating, spitting and dumping trash in public places.
The section of the beach affected was reopened yesterday afternoon.
"We are planning to give out pamphlets or leaflets on the 'do's and 'don'ts on the island," Ms Bernardino said.
The BIARMG is also considering foreign-language signs at the beachfront to warn tourists against littering, smoking and carrying of glass bottles to the beachfront, among other things.
At the moment, the island's information signs carry warnings only in the English language.
"We will see if we will add signage at the beachfront, or maybe only leaflets and pamphlets for information dissemination," she said.
Although considered as an "isolated case", Ms Bernardino said the BIARMG took the defecation incident seriously and would do everything possible to ensure it did not happen again.
"We will strengthen the patrolling at the beachfront, enhance the information campaign, study the inclusion of foreign languages in signages," she said.
In April, we reported that Boracay tourist chiefs revealed that Chinese visitors were by far the worst violators of rules on the island.
In the first four months of this year, 739 Chinese tourists were apprehended for violating ordinances against smoking, littering and eating on the beach, Boracay Tourism Regulatory Enforcement Unit chief Wilson Enriquez said.
"Tour guides have informed them about the ordinances but they are really stubborn," he added.
In second place were the Koreans, with 277 apprehensions. Local tourists accounted for 92 violations, while visitors from other countries fell foul of the rules on only a handful of occasions. 
The white-sand resort island reopened last October after a six-month 'environmental rehabilitation'. The cleanup came after President Duterte described the resort as "a cesspool".
Follow our Facebook page for daily news updates
…