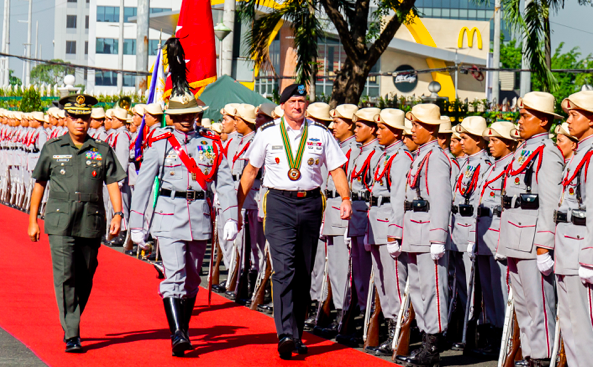 It's alliance with the United States remains "the biggest strength of the Philippines" the country's military chief has said.
Although the Philippines may lack the military muscle to face off with Beijing in the South China Sea — it does have are friends for backup.
These were the sentiments of Defense Secretary Delfin Lorenzana, who was speaking at the 'Pilipinas Conference 2018' in Makati on Friday (December 7).
He said: "It's still the biggest strength of the Philippines, this alliance with the United States." Lorenzana was answering a question about President Duterte's repeated assertions that the Philippines could not go to war with China to defend its territory in the disputed waters.
"In his frustration, I think he said that we can't fight China but he knows we have some options here," he added.
The mutual defence treaty between the Philippines and the USA was signed in 1951. The accord dictates that both nations would support each other if either were to be attacked by an external party.
The defence chief also cited increased military cooperation with Australia and Japan.
In welcome remarks during the conference, former Ambassador Albert del Rosario said the Philippines should seek action from the United Nations General Assembly to press China to abide by the 2016 Hague ruling. This backed Manila's claims to part of the waters that have been unilaterally claimed by China. 
Since the ruling, which was released shortly after the election of President Duterte, the Malacañang has preferred to build stronger ties with Beijing rather than insist on its rights in the waters. 
The president has also announced a shift away from the USA in favour of Russia and China. 
However, since the election of President Trump, US-Philippine relations have seen a marked improvement.
This is likely to be cemented next week with the return of the Balangiga Bells. These were taken as war booty from Eastern Samar in 1901 after a massacre of American troops, followed by bloody reprisals on the local population.
It has now been confirmed that President Duterte will lead the official hand-over ceremony on Tuesday (December 11).
Follow our Facebook page for daily news updates
…