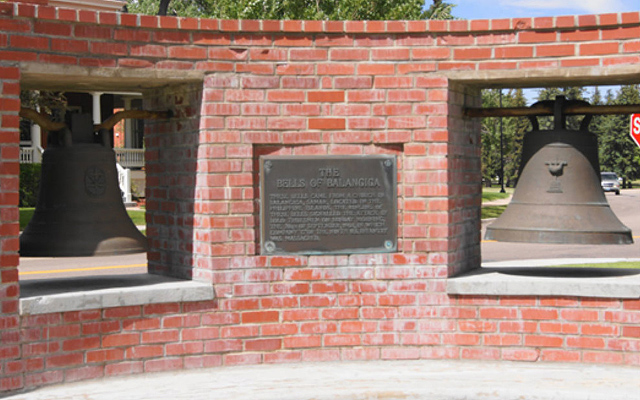 After 117 years, the Balangiga bells will arrive in Manila next week, Philippine Defense Secretary Delfin Lorenzana has confirmed.
All three will be formally handed over by the US at a ceremony to be attended by President Duterte on Tuesday, December 11.
"The aircraft that will be bringing the three bells will arrive before lunch in Villamor Airbase. They are going to unload the bells, they are going to remove it from the crate, put it on display," he said.
Lorenzana said he will sign a document formally accepting the bells. The ceremony will be attended by US Ambassador to the Philippines Sung Kim, who will be giving a speech. Lorenzana will also a speech, but not the president.
A message from US Defense Secretary James Mattis will be read by a representative.
Later, the bells will be returned to their original home in Balingiga Church.
The history of the bells
The bells were taken from the Philippines in 1901 as spoils of war. They were reportedly used as a signal for Filipino revolutionaries to launch an ambush on a US garrison in the Balangiga town.
In the carnage that followed, 48 American soldiers out of a battalion of 74 were slaughtered — then the US military's biggest defeat since the Battle of Little Bighorn.
The outraged Americans sought a bloody revenge. Soon after, they were ordered to kill every man in the province aged 10 years and above, slaughter work animals, burn houses and seize crops.
On several occasions, president Duterte has quoted the supposed order given that the US troops should turn the province into a "howling wilderness".
Requests for the bells to be returned began in earnest when then President Fidel Ramos asked for their return in 1994. The then president Bill Clinton left him disappointed. 
Then, in 2014, more than 3,000 online petitioners also urged the US to return them. However, when then-US president Barack Obama visited the Philippines that year, however, the US leader had nothing to say on the matter.
The decision to return the bells was agreed last month at the Warren Air Force Base in Wyoming, when Philippine Ambassador to the US Jose Manuel Romualdez met with US Defense Secretary James Mattis.
Follow our Facebook page for daily news updates