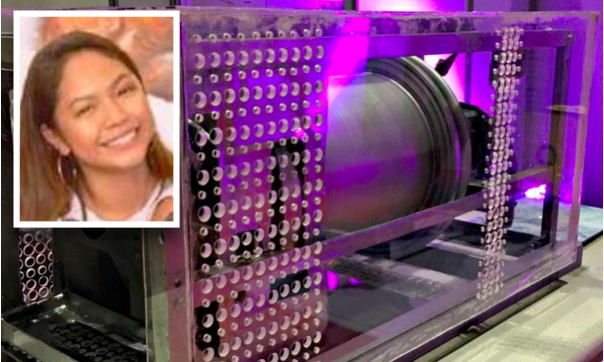 A 19-year-old Filipina has developed an energy-efficient air conditioning unit that does away with hydrofluorocarbons (HFC) as a cooling agent.
Maria Yzabell Angel Palma, a mechanical engineering student at the De La Salle University in Manila, has earned plaudits for inventing an AC unit that works on low power — and without a refrigerant.
The 19-year-old from Naga City was still at the Philippine Science High School's Bicol campus in 2016 when she came up with her invention.
The first modern electrical air conditioning unit was invented by Willis Haviland Carrier in Buffalo in 1902.
Maria said her AirDisc technology discovery came as an "accident" during a school project.
She was actually working on an eco-friendly oven which used copper tubes as part of the design. During testing she noticed that these began to emit cold air. "So I thought why not just develop something from this?" she said.
The heart of the green AC is the centrifugal compressor. This uses rotating concentric air tanks with air inlets that continuously take in enough air molecules for compression.
The generated heat from the air compression is separated and expelled externally while the resultant compressed air molecules with less heat are allowed to expand, thus cooling the room.
AirDisc uses about 350 watts of power to have the same effect as a traditional AC unit using about 1,200.
However, Maria hopes to finesse the design to use only 150 watts for a 0.5 horsepower unit.
"The prototype I researched on used 350 watts but the commercial prototype that will be available in the market will only be 150 watts," she told the Philippine Star.
Maria's invention comes as a boost to the United Nation's Kigali mandate to phase out HFCs as chemical refrigerants.
Scientists believe a kilo of atmospheric HFC is equal to roughly 20,000 kilos of CO2 greenhouse gas.
Maria said she and her father Bernardo, a mechanical engineer, had already filed plans with the US Patent and Trademarks Office.
The father and daughter are now seeking business partners to begin manufacturing.
Follow our Facebook page for daily news updates