About 31 earthquake evacuees or "internally displaced persons" were brought to different hospitals after they ate spoiled meals and got food poisoned in an evacuation center in Malabuan Elementary School in Brgy. Malabuan, Makilala, Monday night.
According to Municipal Health Officer Dra. Georgina Sorilla and Mark Timbal, spokesperson for the NDRRMC, the victims were mostly children who had severe abdominal and headaches, dizziness, vomiting, and diarrhea.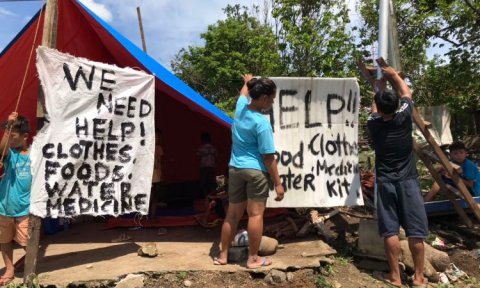 The evacuees felt ill a few hours after eating spoiled chicken pastel from food packs provided to them by a group that organizes meals at the evacuation center.
According to the report, the chicken pastel food packs were handed out Monday morning, but the evacuees ate them at around 1:00 pm. By night, the victims had been suffering from severe abdominal pain and diarrhea.
Earthquake evacuees food poisoned due to starvation
According to the victims, the odor of the pastel chicken they ate was strange, but because they were starving, they tried to eat it. They also said evacuees were fighting each other to get relief goods since the queue was too long.
It was learned that 11 of the victims were rushed to kidapawan Hospital, 10 to Cotabato Provincial Hospital, while others were in stable condition.
Because of the food poisoning, it is temporarily forbidden to provide ready-to-eat meals to evacuees to prevent similar incidents.
Cotabato residents suffered thrice in a series of earthquakes in Central Mindanao where Cotabato was hit by a 6.2 magnitude earthquake on October 16; 6.6 magnitude on October 29 and 6.5 magnitude on October 31.