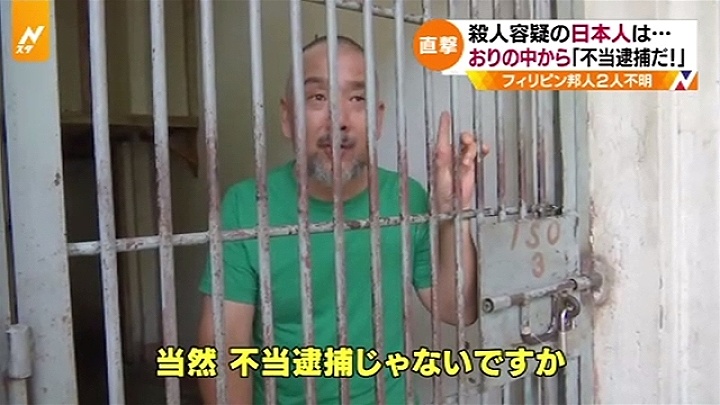 Police are investigating links to Japanese Yakuza crime gangs after two tourists from the country were shot, cut into pieces and thrown into the sea in Palawan.
A Japanese man has been arrested for the grisly murder which took place during an island-hopping sight-seeing trip on May 30.
Murder charges have been filed against Hiroyuki Nagahama, aged 55, for the killing of Yoshihiro Arai, 24, and Masaru Itani, 59.
It is alleged that Nagahama ordered members of a local gang called the Commando Brotherhood to shoot Arai and Itani on the island of West Galoc before dumping their bodies in the ocean.
Nagahama, a native of Osaka, denies the allegations. While being filmed in his cell by the Japanese Fuji News Network recently, he shouted: "I didn't do it! Listen to me!"
Police have also arrested five alleged members of the gang, including Michael Suangco, a tour boat operator, in relation to the crime.
"We threw them, piece by piece, into the water," said Suangco, who added that one of the other suspects threatened to kill him if he did not help load the body parts onto his boat.
Jose Alvarez, the governor of Palawan, said police had found evidence that a number of life insurance policies were taken out in the names of both victims, a possible motive still under investigation.
Gabriel Lopez, Palawan chief of police, said his agency was investigating whether Nagahama had ties to organised crime in Japan. "He was not satisfied with just killing the victims so he even ordered the boat sunk," he said. "We are coordinating with other agencies to establish possible links with the yakuza."
Police said Nagahama was a regular visitor to Palawan, having set up a number of restaurants in the town of El Nido and Coron.
Nagahama remains in custody and investigations are continuing.