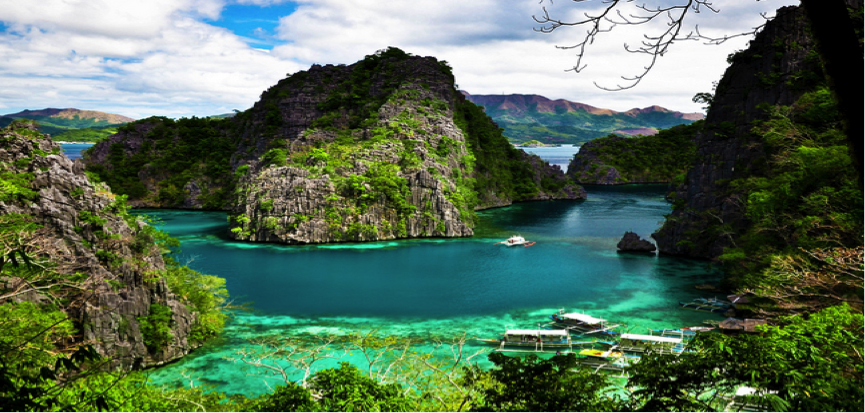 Being consistently voted among the best islands in the world could give the impression that Palawan is a small island — in fact, it's huge.
For this reason, your chosen method of reaching the island is very much down to where exactly you wish to visit.
Manila to Puerto Princesa by flight
The most popular way to get to Palawan is via the provincial capital of Puerto Princesa (PP). There are multiple Cebu Pacific, Air Asia and other flights to and from the city. Check out flights here. The only problem with flying from Manila to PP is that PP is not really where you want to be, with El Nido being five hours on a private bus away, or seven if you take the public bus. 
That being said, PP is a nice enough place to hang for a while in transit.
Flying from other places to PP 
Puerto Princesa International Airport (Paliparang Pandaigdig ng Puerto Princesa) Does not just fly to Manila, with connections to Taipei in Taiwan (sorry, Republic of China), Cebu and Clark, among others. 
Flying to El Nido
If you're going to Palawan and not going to El Nido you are frankly crazy. El Nido has a very small airport known as El Nido Airport (Hiligaynon: Hulugpaan sang El Nido; Filipino: Paliparan ng El Nido). It really isn't much of an airport. AirSWIFT own the airport and connect it with Manila, Boracay, Cebu, Puerto Princesa, Busuanga, Bohol and Clark. 
Flying to Coron
I finally visited Coron for the first time last year and found it to be a little overrated, but who cares what I think, they have an airport. Francisco B. Reyes Airport (Filipino: Paliparang Francisco B. Reyes; Hiligaynon: Hulugpaan sang Francisco B. Reyes), is the airport that services the cool people that want to visit Coron. They service Manila, Clark, Cebu and a few other regional destinations.
Can you take the ferry to Palawan?
Long story short, the best way to get from Manila to Palawan is to fly, but if you have the spirit of Captain Jack about you and insist on a boat you can take the ferry from Manila to PP which will take a whopping 24 hours. Prices start at 18 bucks for cattle class, with the more you spend improving your room.
So, that is our guide on how to get to Palawan. Did we miss any options… aside from private chopper?
Or, of course, you could book an island-hopping tour with a travel professional, and have all the tricky decisions made for you.
Follow our Facebook page for daily news updates
…