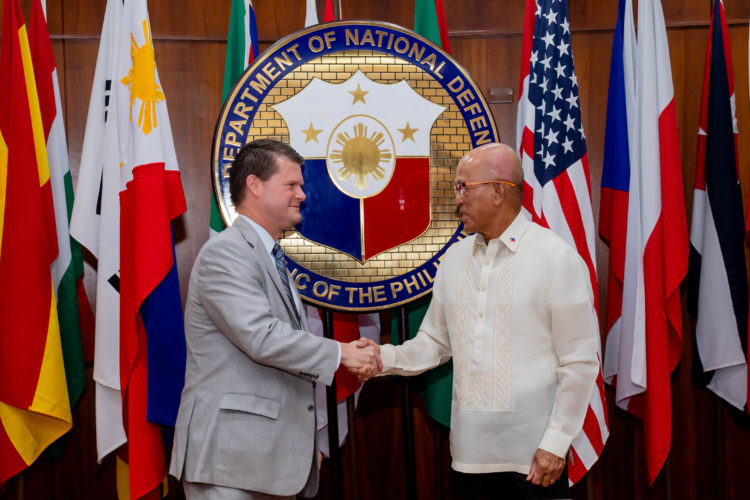 The Philippines is by far the largest recipient of US military aid in Asia, the country's embassy in Manila has announced.
In a statement issued yesterday (Friday, August 17), the embassy said that over the past few years, the US had delivered millions of dollars worth of planes, ships, armoured vehicles and small arms to the Philippines. It also pointed to joint military exercises held by the two countries.
The statement followed a visit of US Assistant Secretary of Defense for Asian and Pacific Security Affairs Randall Schriver to Manila this week.
It said that from January 1, 2017, to the present, the US had funded military equipment worth more than five billion pesos, or $95 million.
This military aid includes:
January 2017: Raven tactical unmanned aerial vehicle system worth 60 million pesos ($1.2 million). This was first tested during the Balikatan military exercises and used in the liberation of Marawi City.
May 18, 2017: 200 Glock pistols, 300 M4 carbines, 100 grenade launchers, individual operator gear, and four mini-guns to be mounted in helicopters, totalling 250 million pesos ($5 million).
May 22, 2017: 25 combat rubber raiding craft and 30 outboard motors worth 250 million pesos ($5 million) to support the Philippine Marine Corps in its counter terrorism efforts.
July 27, 2017: Two C-208 Cessna aircraft ISR platforms for the Philippine Air Force worth 1.6 billion pesos ($33 million).
August 22, 2017: A tethered Aerostat and radar system for the Philippine Navy worth about 923 million pesos ($18.5 million).
February 2018: Forty-one rubber boats with outboard engines valued at 41 million pesos ($794,000), given to the Philippine Navy.
March 13, 2018: Scan Eagle UAS to be used for maritime domain awareness, disaster relief and counterterrorism worth 687 million pesos ($13.2 million).
May 2018: 525 sets of ballistic vests, lightweight ballistic plates, tactical ballistic helmets and accessories provided through the Counterterrorism Train and Equip Program, valued at 178 million pesos ($3.4 million).
August 14, 2018: Special Airborne Mission Installation and Response system which provides the C-130 Hercules with advanced command and control, communications, computer and econnaissance capabilities, valued at 807 million pesos ($15.1 million).
Follow our Facebook page for daily news updates
…