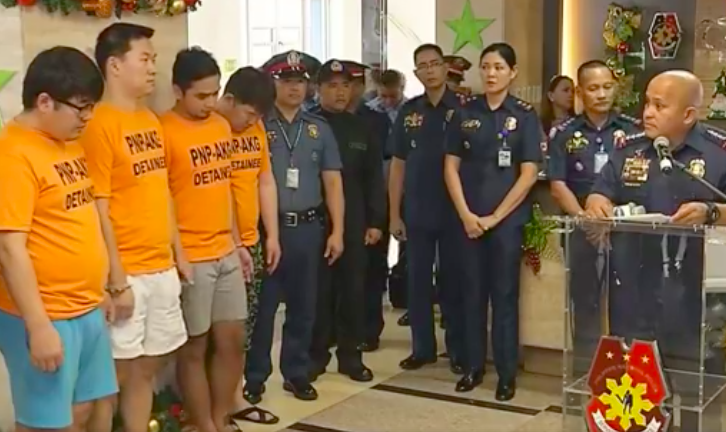 A kidnapped Korean man has been rescued by police from illegal detention at the Bureau of Immigration's (BI) compound in Manila.
Lee Jung Dae, who owns a restaurant in Angeles City, was allegedly kidnapped by fellow Koreans working in cahoots with corrupt BI and National Bureau of Investigation (NBI) agents.
Arrested during the operation on Saturday, November 25, were twin brothers Cha Jae Young and Cha Jae Sun as well as Raymond Flores, a Filipino, who was guarding Mr Lee in a car parked inside BI's compound in Intramuros.
A fourth suspect was named as Kim Min Kwan, also known as Michael Lim. He was arrested during a follow-up operation near his home in Ermita, Manila.
Police say that Mr Lee was arrested after a fake mission order was issued against him by a corrupt BI agent.
Kidnapped Korean held for ransom
The group then demanded a 1.2 million peso ransom. Mr Lee's girlfriend made the payment at Marquee Mall in Angeles City.
However, the suspects then refused to release the kidnapped Korean, and demanded another 1.2 million.
Police chief Ronald dela Rosa said he launched the rescue after being told about the kidnapped Korean during a meeting in Korea on Friday.
Three employees of Mr Lee, Kim Dae Hyun, Jung Ju Wan and Kim Woo Min, were also kidnapped.
During questioning, Kim named his BI contact as Carlos Garcia, also known as Oxo. He said there were two other BI agents and three NBI officers involved in the operation.
Dela Rosa said his officers are now verifying Kim's claims. He added that further arrests would follow if necessary.
No police officers were involved in the incident.
The PNP chief said the Lee's kidnapping bore similarities to the case of Ji Ick Joo, who was allegedly kidnapped and murdered by police officers last year.
The trial of his abductors is currently underway.
HAPPENING NOW: PNP Chief Ronald 'Bato' dela Rosa suspects suspects in the kidnapping of Lee Jung Dae. www.cnn.ph

Posted by CNN Philippines on Sunday, November 26, 2017