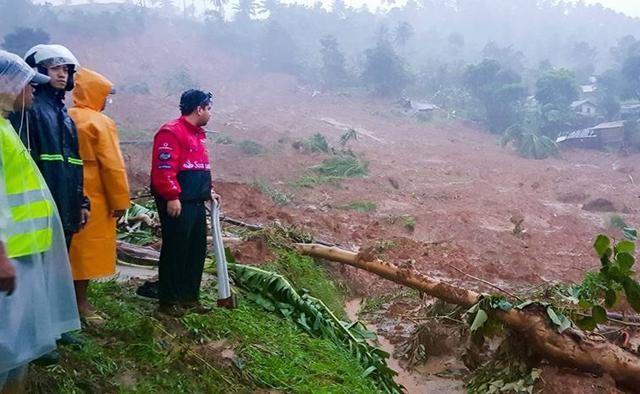 Landslides triggered by tropical storm kai-tak — or Urduja — have killed 26 people and 23 more are missing in the eastern Philippines.
The deaths were reported in the island province of Biliran, a day after the storm pounded the east of the country.
Kai-Tak tore across the islands of Samar and Leyte on yesterday (Saturday, December 16) toppling power lines in 39 towns or cities and damaging roads and bridges.
Some 87,700 people were forced from their homes in the region. The previous death toll had stood at just three.
"There is a total of 26 people dead from landslides in four towns of Biliran. We have recovered the bodies," Sofronio Dacillo, provincial disaster risk reduction and management officer, told AFP.
Gerardo Espina, governor of the island province just east of Leyte, gave the same figure for deaths in an interview on ABS-CBN television. He said 23 people were missing.
The national disaster risk reduction agency could not immediately confirm if the 26 deaths in Biliran included the initial three fatalities it reported yesterday.
Kai-Tak weakened this afternoon, with gusts of up to 50mph, and was reclassified as a tropical depression, state weather forecasters said.
But disaster officials warned that more floods and landslides were possible and 15,500 passengers were stranded because ferry services remained suspended in parts of the region.
"I've been stranded for three days, sleeping in the bus, and I just want to get home to my family for Christmas," Eliaquin Pilapil, a 55-year-old farmer, told AFP from a port in the town of Matnog in Sorsogon.
The Philippines is battered by about 20 major storms every year.
Samar and Leyte bore the brunt in 2013 of super yyphoon Haiyan, or Yolanda, which left some 7,350 people dead or missing.
In the Leyte city of Tacloban, yesterday's storm brought flash floods of up to five feet and strong winds that left the city without power and water.
"The storm moved so slowly that it brought so much rain to our city. The floods resulted from four days of rain," Ildebrando Bernadas, head of Tacloban's disaster risk reduction office, told AFP.
More Kai-Tank updates via PNA
Urduja has slightly changed its course and is now heading towards Aklan, state weather agency Philippine Atmospheric, Geophysical and Astronomical Services Administration (PAGASA) said this afternoon.
The storm is moving west southwest at 15kph. It has a maximum sustained winds of 55kph near the center and gustiness of up to 80kph.
Tropical cyclone warning signal no. 1 was raised over southern part of Mindoro , Romblon, and Palawan, Aklan, Antique and Capiz. PAGASA said sea travel is not advised over the seaboards of areas under TCWS no. 1.
Scattered to widespread rains will continue over southern part of Mindoro, Marinduque, Romblon, Palawan, Aklan, Capiz and Antique.
Meanwhile, the TD outside the Philippine Area of Responsibility (PAR) that PAGASA is monitoring was last eyed at 1,950 km east of mindanao.
……….
More than 16,000 passengers were stranded in ports across the country today in the wake of the onslaught of Urduja.
In its latest advisory, the Philippine Coast guard said 16,449 passengers were stranded after 118 sea vessels, 1,711 rolling cargoes and 37 motor bancas suspended their trips in affected areas of National Capital Region, Eastern and Southern Visayas, Bicol and Southern Tagalog.
PAGASA said in its latest weather bulletin that 'Urduja' has slightly weakened after crossing Samar provinces and is now over Masbate province.
……….
Daniel Z Romualdez Airport in Tacloban City has resumed its full operations this morning after the Civil Aviation Authority of the Philippines together with the Philippine Air Force and Army have cleared it of fallen trees and other debris that littered the area in the wake of the onslaught of Urduja.
The city airport temporarily suspended its operations on Friday, prompting cancellation of all commercial flights.
Strong winds toppled several trees that blocked the access road leading to the airport and caused a portion of the cyclone fence to lean, damaging several building facilities.
The immediate assistance provided by the Air Force and Army soldiers enabled airport personnel to swiftly restore the damaged cyclone perimeter fence and replace the shattered wind cone within hours.
They also reinforced the building's ceiling and installed portable floodlights at the parking area of the airport.