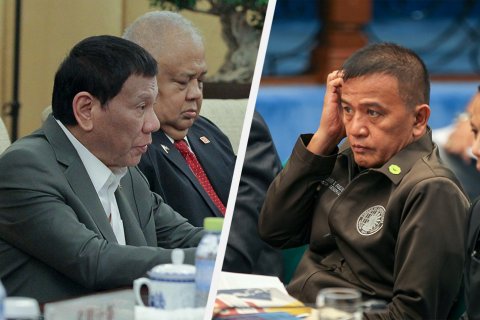 Fired Faeldon bids goodbye to the BuCor staff.
Faeldon packed his things and posed for a picture before saying goodbye to the BuCor office and staff, late Wednesday night.
The former Marine captain said he would wholeheartedly accept the president's decision.
"My commander-in-chief/appointing authority has spoken. I am a marine, and a marine does as he is told. I most humbly bow to my commander-in-chief's order without any hard feelings," he said in a statement.
President Rodrigo Duterte fired Faeldon
Duterte demanded Bureau of Corrections (BuCor) chief Nicanor Faeldon amid good conduct time allowance law and release of heinous crimes convicts controversy, Wednesday night.
"I decided last night… I am demanding the resignation of Faeldon immediately," the President said.
The President said that he ordered Faeldon and Justice Secretary Menardo Guevarra to stop releasing inmates "until further orders by higher authority."
However, Faeldon did not conform with the President's order and released prisoners, including the convicted kidnappers and killers of the Chiong sisters. Ex-mayor and convicted rapist-murdered Antonio Sanchez was supposed to be released too if not for the public's outcry and Duterte's order.
Duterte said, "Faeldon has to go because Faeldon disobeyed my order."
He also ordered the Office of the Ombudsman to investigate if there were corruption related to the release of heinous crimes convicts.
It was not the first time that Faeldon stepped down from his position. In 2017, he resigned as Bureau of Customs chief when P6.4-billion worth of shipment of crystal meth managed to slip into the Philippines.
Duterte still gave him a position at the Office of Civil Defense before appointing him as BuCor chief.