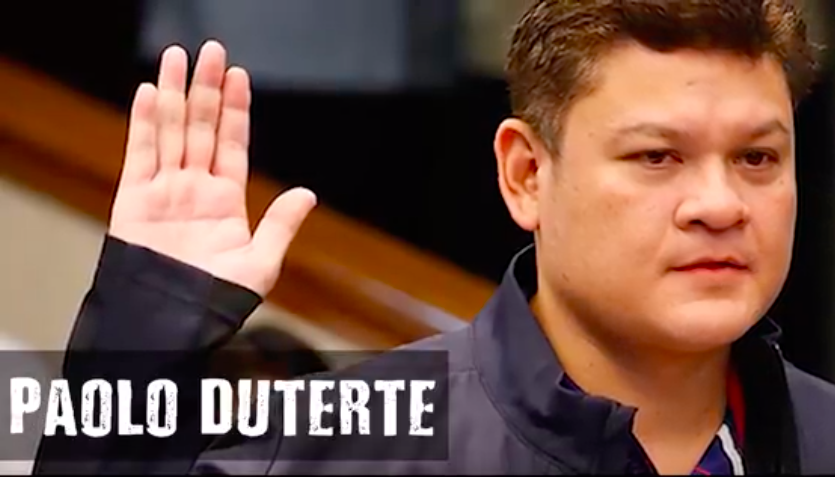 President Duterte's son Paolo has hit back at allegations that he is among the "principals" of a criminal drug smuggling syndicate. 
In a Facebook post today (Wednesday, April 3), 'Pulong' Duterte lashed out at a certain "J.S.", who he said was responsible for a YouTube video alleging his connection to a criminal organisation.
"POLO DELTA- PAOLO DUTERTE? WOW ha kung makaimbento ka wagas. Galit ka kay Waldo kasi binabara niya lahat ng smuggling mo ng bigas at asukal diba J. S.," he wrote.
"Galit ka sa akin kasi di kita pinansin sa eroplano kasi hambog ka! Ngayon pansinin na kita kasama ng kamay ko na kasing laki ng mukha mo pag nangyari yan. Yan ang totoong balita!
"Ang Dragon code ko pala ay " PD 92112″ "o yan research ka ulit! PAK YOU MO GINAYA MO PA SI TRILILLING HA! Pag lolo nalang dong sunda imo idol nga bayot nga si J. P."
Due to the presidential son's idiosyncratic syntax and grammar, the best Google translation for his post is the following:
Polo Delta – Paolo Duterte? Wow, okay, if you are so fussy. You're angry with Waldo because he's binabara all your smuggling rice and sugar right J. S. You're mad at me because I ignored you on the plane because you're arrogant! Now I ignore you with my hand that is as big as your face when it happens. That's the real news! My Dragon code is actually "PD 92112" "or that's research you again! Pak you, you copied trililling, huh! If it's a grandpa, dong sundanese, my idol is the one who is a gay
In a widely shared six-minute YouTube video, a narrator showed a list of principals and their kickbacks that were deposited in the alleged drug lords' bank accounts as well as their code names.
Among the code names was "POLODELTA-TSG01". The narrator claimed that it referred to Duterte's son.
The video claimed that the bank accounts were owned by Waldo Carpio who would transfer the money to an international bank in the name of President Duterte's eldest child.
Waldo Carpio is the brother of lawyer Manases Carpio, Paolo's brother-in-law and husband of Davao City Mayor Sara Duterte-Carpio. He is an undersecretary at the Department of Agriculture.
A certain "Bikoy" — who claimed to be a member of the syndicate — also appeared in the video and said that Duterte had his alleged syndicate code name tattooed on his back.
The video, titled "Ang Totoong Narcolist – Episode 1," was uploaded yesterday. At the time of writing, it has had more than 100,000 views. 
Today, a presidential spokesman has hit back at the video. "Obviously a black propaganda," Salvador Panelo told reporters.
Paolo, who quit as vice mayor of Davao City in December 2017, is running as a congressman for Davao's 1st District in the midterm poll.
President Duterte has previously threatened to have his son killed if proven to have links to the illegal drug trade. In September 2017, he said: "I said before my order was: 'If I have children who are into drugs, kill them so people will not have anything to say'.
"So I told Pulong: 'My order is to kill you if you are caught. And I will protect the police who kill you, if it is true'."
Follow our Facebook page for daily news updates
https://youtu.be/fhe7bT5wEWQ