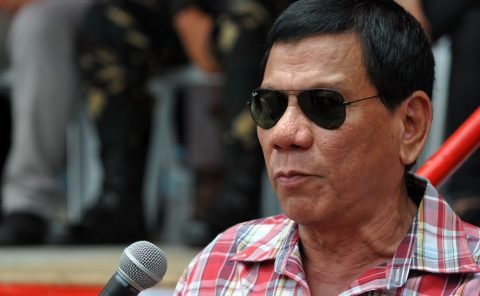 President Duterte has said that he wanted to behead human rights critics and warned that 50,000 more people could die in his war on drugs.
The incendiary words today (Thursday, April 18) came shortly after he rejected European Union aid money worth 250 million Euros due to criticism of his bloody narcotics crackdown.
Speaking at a ceremony to open a new bridge, he said: "Don't trust those human rights critics, if you do I will cut off both your heads.
"I will not be influenced by any fear. Jail me. So jail me. If they say I should be jailed, okay. Fine. I'll pay the price."
A bid to impeach the President was thrown out this week, but a complaint alleging crimes against humanity has been lodged at the International Criminal Court.
He also waved off any criticism of the highly contested death toll — that some people believe has reached 10,000 — saying: "Make that 50,000. I will really finish them off. And even if I go to hell, I can rot in prison. I do not mind. I am old."
The comments came shortly after presidential spokesman Ernesto Abella announced the Philippines would refuse EU grants that "interfered" with its internal affairs.
He said: "The president has approved the recommendation of the department of finance not to accept grants from the EU that may allow it to interfere with the internal policies of the Philippines."
He added that one grant had already been declined for having "objectionable conditions" attached to it, but he refused to elaborate on what these might be.
Last year, the EU sent aid worth $217 million, largely focussed on bringing an end to the Islamist and communist insurgencies plaguing the Philippines.
Franz Jessen, the EU's ambassador to Manila said the decision would cut off $278 million in aid to the country.
However, economic secretary Ernesto Pernia sowed confusion over the announcement, saying: "I will not take that as a policy. It is more of a reaction to criticism. I don't think it's going to remain as such."
The social development arm of the Catholic Bishops Conference of the Philippines criticised today's rhetoric.
Spokesman, the Rev Edwin Gariguez, said: "The Duterte administration is just too fanatically engrossed on the war on drugs, hating every institution that questions it
"This short-sightedness is echoed even in making foreign or economic policy, which is extremely detrimental to the welfare and interest of the poor, like this decision not to accept EU aid."
The EU is reviewing the tariff-free status enjoyed by Philippine exports due to rights concerns — which also include plans to bring back the death penalty and to lower the age of criminal responsibility to just nine. This tariff-free trade was worth about $1.78 billion last year.
Partly in response to American criticism of the drug war, Duterte has also loosened his country's ties with the USA, its traditional ally — also turning his nose up at any financial assistance.
Referring to the EU, the US and other critics in a speech last October, he said: "If you think it is high time for you to withdraw your assistance, go ahead, we will not beg for it. How do you look at us? Mendicants?"
He has instead embraced China, which has supported his drug war, and sought to deepen economic ties.
The president has also reached out to Russia, and will travel to Moscow next week to meet President Putin.