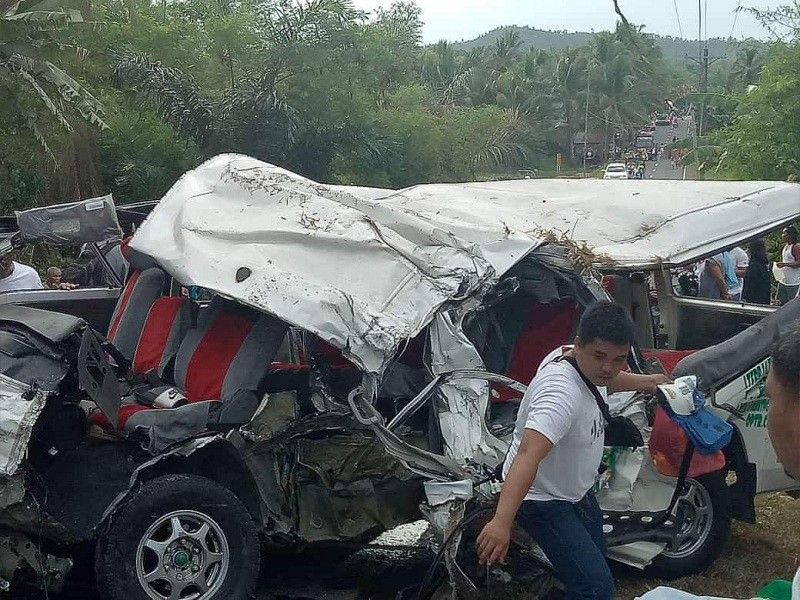 It's been a day of carnage on the roads of the Philippines, with at least ten people killed in two deadly collisions.
At least eight were killed and several others injured in a crash in Babatngon, Leyte, early this morning (Friday, May 17).
The collision occurred at about 6.15am and involved a utility van and six-wheeler truck. 
The utility van was carrying 18 passengers, while the truck — which was transporting live pigs — had a driver and a helper.
The head-on collision caused both vehicles to overturn, resulting to the death of eight van passengers and the injury of 11 others.
The truck driver and his helper were also injured.
Collision in Argao
Also this morning, two women were killed and three injured in a collision involving a passenger bus and motorcycle in Argao, southern Cebu.
Police Major Rolan Aliser told The SunStar Cebu that the collision occurred at about 10.45am as the motorcycle was attempting to overtake an oil tanker.
Swerving to avoid a crash, the bus then ploughed into several stationary motorcycles.
Unacceptable death toll
In April last year, we reported that the Philippine delegation to the UN General Assembly admitted that the country was having a "hard time" cutting the "unacceptably high" death toll on its roads.
Speaking in New York, Cesar Sarmiento, chairman of the House transportation committee, said the country was struggling to meet the global target of cutting road crash fatalities by half in 2020.
He added that despite ongoing efforts to promote road safety, "the number of road traffic crashes globally remains unacceptably high". In the case of the Philippines, he said, "we are also having a hard time meeting the target".
"As of the end of 2016, road crashes kill an average of 31 people a day and is a major cause of death for our youth. This figure shows a 40 per cent increase in the number of deaths compared to 2006," he said.
Follow our Facebook page for daily news updates
…