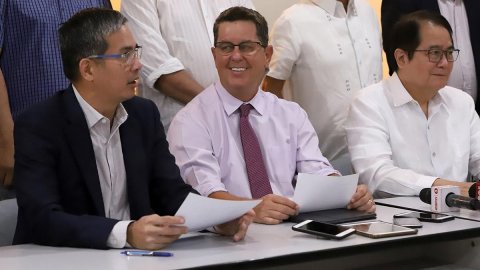 Gilas Pilipinas coach Tim Cone has selected six players from the Barangay Ginebra San Miguel Gin Kings to play for Team Philippines in the upcoming Southeast Asian (SEA) Games.
Cone, who also coaches Barangay Ginebra, named La Tenorio, Scottie Thompson, Stanley Pringle, Greg Slaughter, Japeth Aguilar and Arthur dela Cruz as the core of the Gilas Pilipinas 15-man rotation for the SEA Games. The selection banks on the players' familiarity with Cone's strategies.
Outside of the Gin Kings, the other players chosen for the Philippine team were Gilas veteran guard Jayson Castro, FIBA World Cup players RR Pogoy, Troy Rosario, and June Mar Fajardo, as well as Marcio Lassiter, Chris Ross, Christian Standhardinger, Vic Manuel and Matthew Wright.
Talking about the reason behind the selections, Cone said "With limited practice, we don't have a whole lot of time to teach, time to try out and get a lot of the guys in, figure out who's it gonna be, so we narrowed it down and we tried to come with the idea of maybe because of the short window we have, maybe we should go with a team I'm familiar with –Ginebra – get six of its players and reinforce it."
With the team given only 8 to 14 practice sessions over the next thee months, the two-time PBA grand slam champion coach emphasized that the pool of veterans was the best he could create given the circumstances.
He argued "I don't have time to teach everybody. If I have a core group that already understands what we'd like to do in terms of system offensively and defensively, then those players will help me coach the other players who will be added on. So it's not gonna be really getting the best players to go; it's gonna be trying to create the best team we can get in a short period of time and be the most efficient team we can put together and I think that comes with the idea of having a core group that knows the system and adding in players to that core, upgrading the talent of that core."