The three-year-old child who was among the five casualties of a delivery van versus bus accident in Pagbilao, Quezon last Saturday, remained unidentified.
No one has taken the body yet, and it is, however, to be determined whether the child's companion or relatives were also killed or were in critical condition at the hospital.
Their relatives identified four of the five passengers who were killed in the accident.
The victims were identified as Pacita Gabriente, 61; Editha Antiques, 69; Arturo Espiel, 60; and Maria Analoyd Seyosa.
The accident happened when a CUL Transport bus and a delivery van collided at 5 p.m. Saturday at New Diversion Road, Barangay East Malicboy, Batangas, Quezon.
Five people were killed while 33 others were injured.
Ten of the injured were rushed to the Quezon Medical Center in Lucena City, and three of them were women in critical condition. One of them was in the intensive care unit this Sunday, while the other two were in the surgery ward and still unconscious. Another woman was left at the Quezon Medical Center this Sunday.
The other wounded insisted on leaving the hospital this Sunday morning.
The 23 passengers who sustained minor injuries were taken to Barangay Hall in East Malicboy. They were not sent to the hospital anymore. Some continued to Leyte and others to Manila this Sunday, aboard another CUL Transport bus.
Van vs. bus accident in Quezon
The CUL Transport Bus was from Manila and was on its way to Maasin, Leyte, this Saturday when a delivery van met it.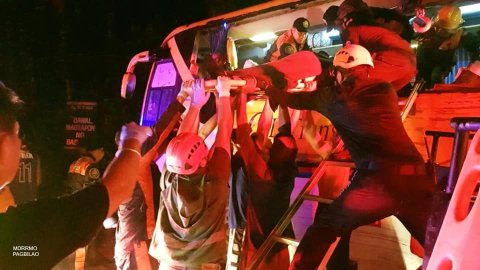 According to bus driver Reynaldo Sampilo, he was unable to avoid it as the speeding delivery van collided on the side of the highway. The delivery van took the bus line and hit the left side.
After the delivery van hit the bus, it hit the highway barrier. The front of the van was severely damaged. The driver and his companion were also wounded.
Most of the casualties were sitting on the left side of the bus in the window seat. The victims suffered severe head injuries, which caused their immediate death.
Most passengers will return home to Leyte to celebrate Christmas.
According to the delivery van driver Xander Soliveres, it was an accident, and he didn't mean it to happen. He explained the van lost its brakes, so it slammed into the bus.
CUL Transport representatives arrived this Sunday, saying they will cover the cost of funerals and injuries.
The delivery van driver faces reckless imprudence resulting in multiple homicides, multiple physical injuries, and damage to property.
The driver is now in the custody of the Bila Municipal Police Station.