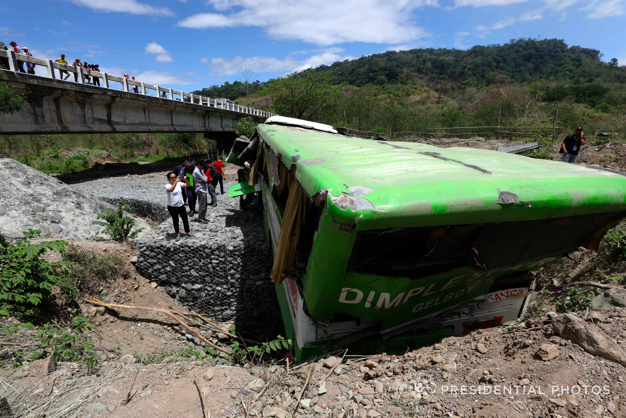 The owner of a bus that plunged off a cliff killing 19 passengers has admitted that the vehicle was bought from a junk shop.
Hilbert Napat of Dimple Star Transport made the admission during a hearing on the tragedy today (Wednesday, April 18).
Addressing the Land Transportation Franchising and Regulatory Board, Napat described how his company bought the unit from a junk shop and rebuilt it with a reconditioned engine. He also admitted to repainting the bus to make it look new.
The poor state of the vehicle was among the factors being looked into after the bus fell off a cliff in Barangay Batong Buhay in Sablayan town on March 20. As well as the 19 killed, another 21 were injured.
At today's hearing, Napat explained the poor condition of his buses as being due to their exposure to seawater when using ferries during as inter-island trips.
Martin Delgra, the chairman of the investigation, said he was "surprised" to hear such an explanation. He added that company mechanics should ensure all units were in optimum condition before every journey.
Delgra then presented a photo of the wrecked bus and pointed out how rusty it was.
The suspension of Dimple Star Transport's franchise has yet to be lifted.
Along with the freezing of the bus fleet's operations, Dimple Star's bus units were required to undergo road-worthiness tests, while its drivers and personnel were ordered to undergo road safety seminars and drug testing.
The next hearing is scheduled on May 30. 
The crash is only one of the high-casualty incidents we have reported on Philippine roads.
In February last year, 14 people — most of them students on the way to a camping trip —  were killed when their bus crashed in Tanay town in Rizal province. The tragedy was caused by failing brakes on a steep stretch of road, which sent the bus careering into a tree.
Then, in January this year, seven Canadian Filipino medics on a charity mission were killed when the driver of their van fell asleep at the wheel in Alegria Town, Cebu.
Highway fatalities remain stubbornly high in the Philippines due to combination of poor law enforcement, dilapidated vehicles and lack of safety features on the roads.