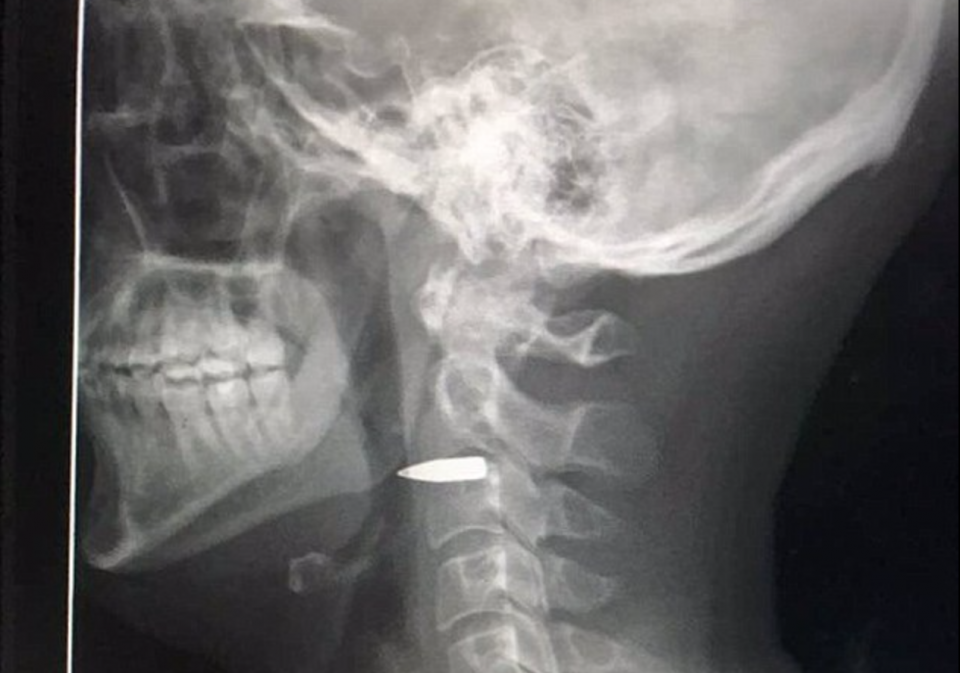 An Australian journalist who was shot in the neck on the outskirts of Marawi City today (Thursday, June 15) has described himself as "lucky".
Adam Harvey, a reporter for the Australian Broadcasting Corporation, was covering the ongoing clashes in the embattled city on Mindanao, which has been overrun by Islamic State-affiliated terrorists for three weeks.
Writing on Twitter, he said: "Thanks everyone — I'm okay. Bullet is still in my neck, but it missed everything important." He also shared an x-ray, showing the bullet lodged close to his spine with the single-word caption: "Lucky."
Mr Harvey was shot while inside a compound where journalists covering the crisis have congregated, which is only a little more than a mile from the fighting.
Following the incident, military spokesman Lieutenant-Colonel Jo-ar Herrera told reporters: "I want to appeal to everyone you should be very careful because in our assessment the vicinity of the 103rd (military camp), the vicinity of the capitol is within the line of sight of the enemy."
Mr Harvey has been taken to the nearby city of Iligan for medical treatment.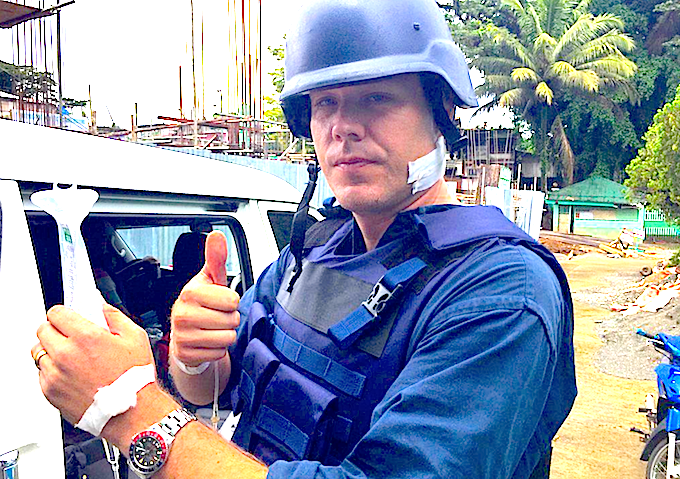 At least 26 civilians have been confirmed dead in the clashes, but fears are growing that many more have been killed. The security forces have lost 58 personnel and at least 200 terrorists have been killed.
The city of 200,000 people has been almost completely abandoned due to the fighting, but up to 2,000 civilians may be trapped amid the fighting or held hostage by members of the Maute terror group and other jihadis, some foreign.
The Maute group continues to cause chaos in the northern Mindanao city 24 days after the Islamic State-affiliated gang went on the rampage under the terror group's infamous black flag.
According to a video seen by Associated Press, the militants had been planning to launch a widespread uprising in the city on May 26 in a bid create a new IS stronghold in the Philippines.
However, their plans were disrupted when their headquarters were raided by the armed forces three days earlier on May 23.
The operation was an attempt to capture Isnilon Hapilon, IS's regional representative, or 'emir'. Hapilon, who is also a commander of Abu Sayyaf, has a $5 FBI bounty on his head.
It is believed he was in the city to unite the various islamist groups of the Philippines under the black flag of IS.
The level of chaos that followed the raid, and the presence of numerous foreign jihadis, suggests that he had made progress in this aim.
Within hours of chaos erupting across the city, President Duterte placed the entire island of Mindanao under martial law.
American special forces are now assisting the military.
Also today, a suspected bomber and member of the Maute clan was arrested in Cagayan de Oro City, about 60 miles from Marawi.
Brigadier General Gilbert Gapay says the suspect, Mohammad Noaim Maute, was under investigation.