Cebu City Police have filed criminal charges against Craig Keith Ratcliff and his wife, Maria Aisa Baldomar-Ratcliff for the murder and burning of US Navy veteran Timothy Wilson in Busay, Cebu three months ago.
Both Craig and his wife Maria are still on the run. An investigation into the murder of the American prompted police to file the murder charges against the couple.
Police said they found probable cause that pointed directly at the Ratcliffs, outside of the overdue debt that Mr Wilson was attempting to collect. Sources say that Craig owed Mr Wilson $700,000. An investigation showed that Craig called Mr Wilson into the area to talk about the debt, but police say it was to lure him in to murder him and cover up the crime.
"The tenacious demands for payment by Timothy A. Wilson to the suspects may have triggered the plan to liquidate or kill the victim considering that if and when the lending agreement (between the suspects and the victim) would be enforced, the spouses (Ratcliffs) would lost everything," the police stated in their formal complaint.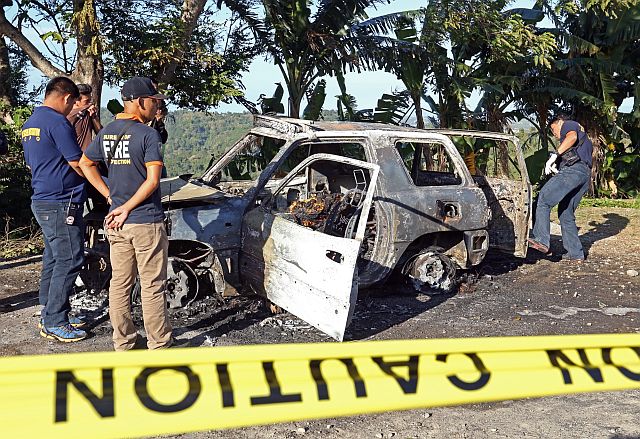 The police added that the payment owed by Craig to Mr Wilson was a ploy to assure that the American would come to the area alone.
An eyewitness to the earlier stages of the murder said that he saw Craig board a white Toyota that sped off from the area.
"Circumstances tend to establish that Timothy Wilson was already dead on March 16, 2016 when Ratcliff (Craig) checked in at Cebu Hilltop Hotel: his (Wilson's) dead body was concealed and stuck at the front seat of a Toyota," the police said.
They also discovered that Craig concealed his true identity when he registered his name in the hotel as Kevin Kline "to conceal such a heinous crime of murder."
Police said they were able to track down the white Toyota Innova and discovered it was registered in Craig's wife's name, Maria.
Mr Wilson's wife said that her husband was last seen with Craig. That information was confirmed by Craig's wife when Jocelyn talked to her over the phone.
Police added that once the news of Mr Wilson's death became public, Maria could no longer be contacted. Police believe both Craig and Maria went into hiding and are currently on the run.