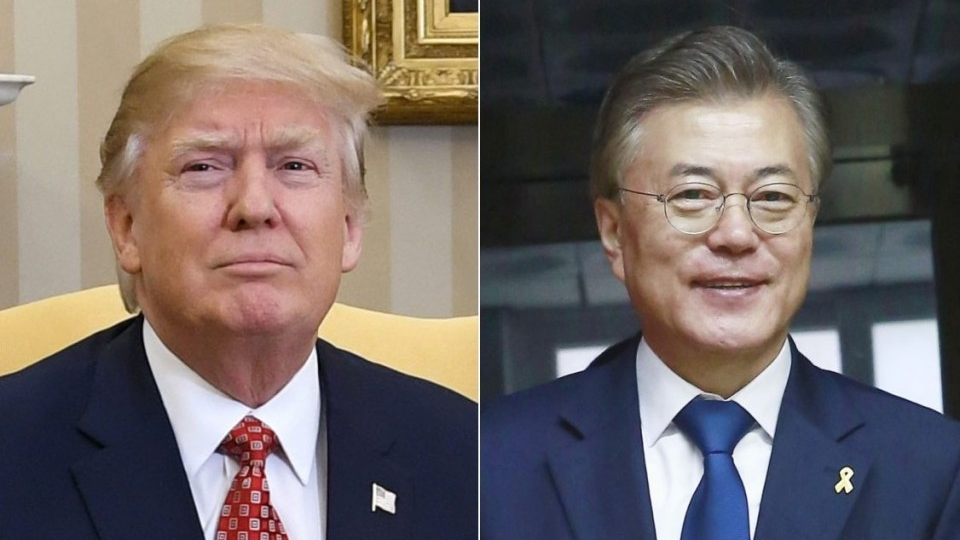 South Korean President Moon Jae-in has said President Trump deserves the Nobel Peace Prize for his efforts to end the standoff with North Korea.
"President Trump should win the Nobel Peace Prize. What we need is only peace," Moon reportedly told a meeting of senior secretaries today (Monday, April 30).
Moon and Kim Jong Un pledged at a summit on Friday to end hostilities between their countries and work toward the "complete denuclearisation" of the Korean peninsula.
Trump is preparing for his own summit with the North Korean leader, which could take place within weeks.
Previously, Trump has exchanged blood-curdling threats with Kim over his development of nuclear missiles capable of reaching the United States.
Barack Obama won the 2009 Nobel Peace Prize just months into his presidency — an award many thought was premature and undeserved.
Within months of collecting the prize in Oslo, he had ordered a huge surge in US troop numbers in Afghanistan.
Three other US presidents have won the Nobel Peace Prize: Theodore Roosevelt, Woodrow Wilson and Jimmy Carter.
Moon's Nobel Prize comment came in response to a congratulatory message from Lee Hee-ho, the widow of late South Korean President Kim Dae-jung, in which she said Moon deserved to win the prize. Moon responded by saying Trump should get it.
Trump today suggested that his planned meeting with Kim could take place at the Peace House on the border between North and South Korea.
The upcoming Trump-Kim meeting was the main subject of talks between Kim and Moon had during their recent meeting.
US Secretary of State Mike Pompeo said yesterday that Trump would maintain a "pressure campaign" of sanctions on North Korea until Kim scrapped his nuclear and ICBM programmes. 
We have also reported today how President Duterte described Kim as his "idol" and his "man of the hour". Previously he has described the North Korean leader as a "chubby son-of-a-whore maniac".