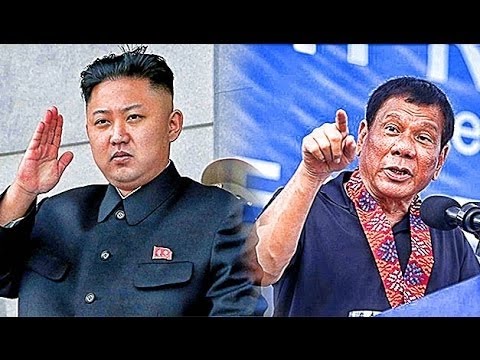 Throughout his career, first as Davao City mayor and now as president, Mr Rodrigo Roa Duterte has never held back from insulting world figures who spark his anger.
From Pope Francis ("son of a whore") to President Obama ("go to hell", and worse), the president has never been afraid to speak his mind.
However, in the case of one world leader that you'd expect him to have some sharp words for, he's been strangely silent… until today (Wednesday, August 2).
In a nationally broadcast speech to mark the 113th anniversary of the Bureau of Internal Revenue, he let rip against North Korea's 'Dear Leader' Kim Jong Un.
"He is playing with dangerous toys and this crazy man, do not be fooled by his face, that chubby face that looks nice," he said.
"That son-of-a-whore maniac, if he makes a mistake then the Far East will become an arid land.
"It must be stopped, this nuclear war, because if a limited confrontation blows up here, I tell you the fallout, the soil, the resources. I don't know what will happen to us. We won't be able to plant anything productive."
Kim should be no stranger to a strongly worded insult. Over the years his spokesmen have hurled the most remarkable invective at a host of international figures.
Barack Obama, for instance, was once described as "like a monkey", while George W Bush was likened to a "chicken in the rain". As for Hillary Clinton, she was described as looking like "a pensioner going shopping".
However, the most colourful abuse has been reserved for former South Korean President Park Geun-Hye, who has been variously described as "a tail-less insane bitch" and "a bat who lives in a dingy cave".



Under Kim's leadership, Pyongyang has accelerated its nuclear and ICBM programmes, in defiance of international condemnation and numerous United Nations sanctions.
Last week, Pyongyang conducted its second ICBM test, which Kim boasted was proof he was able strike any target in the United States.
US Secretary of State Rex Tillerson and Chinese Foreign Minister Wang Yi will be in Manila this week for a security forum hosted by the Association of Southeast Asian Nations (ASEAN). Pyongyang's recent actions will be high on the agenda at the summit, which will also be attended by the North Korean Foreign Minister.