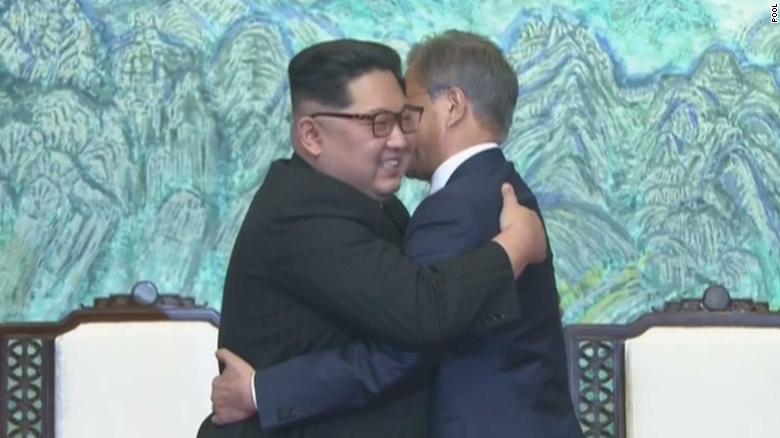 President Duterte was "very much relieved" after North and South Korea agreed to pursue peace in the Korean Peninsula.
Speaking hours after the historic meeting on the Korean Peninsula today (Friday, April 27), presidential spokesman Harry Roque said: "Of course everyone is relieved because we were all looking at the prospects of a nuclear encounter in our backyard.
"As you know, whenever they test their missiles, it always lands in Philippine waters." Roque was speaking at a press conference in Singapore, where the president is attending an Association of Southeast Asian Nations (Asean) summit.
Earlier today, North Korean leader Kim Jong-Un and South Korean President Moon Jae-in issued a joint declaration on "the common goal of realising, through complete denuclearisation, a nuclear-free Korean peninsula".
They also agreed that they would seek a permanent end to the Korean War — 65 years after the conflict ended in an armistice rather than a peace treaty.
President Duterte has previously called Kim a "son-of-a-whore maniac". 
Speaking last August, he said: "He is playing with dangerous toys and this crazy man, do not be fooled by his face, that chubby face that looks nice.
"That son-of-a-whore maniac, if he makes a mistake then the Far East will become an arid land.
"It must be stopped, this nuclear war, because if a limited confrontation blows up here, I tell you the fallout, the soil, the resources. I don't know what will happen to us. We won't be able to plant anything productive."
While publicly calling on the US and North Korea to "show restraint," the president reportedly urged President Trump in private to "keep the pressure" on Kim.
The Philippines has repeatedly urged North Korea to stop its missile tests, that in some cases have passed through its territorial airspace.