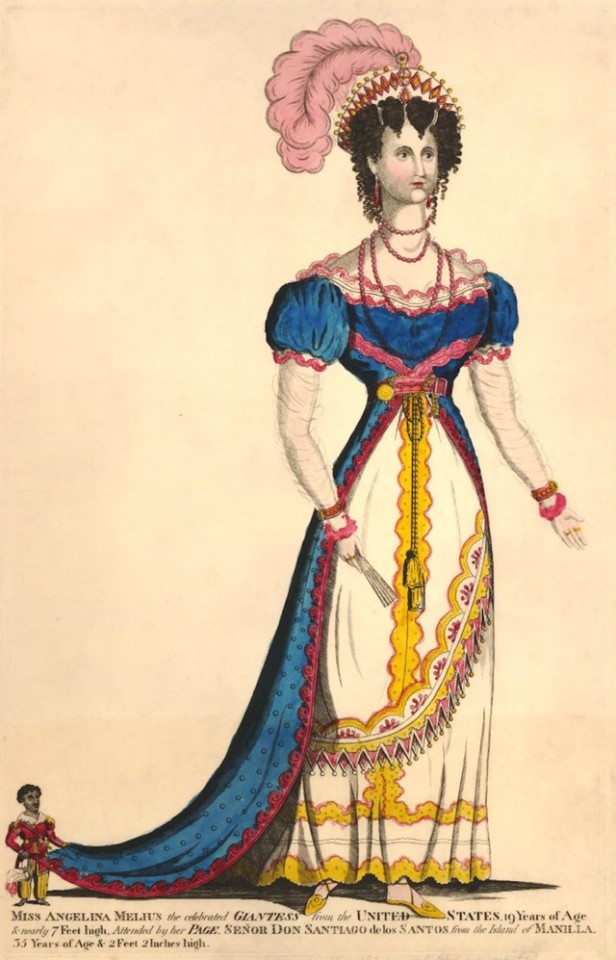 Don Santiago de los Santos, a Filipino who stood at just a little over two feet tall became one of the biggest stars in 1820s England.
Although he's largely forgotten today, enough contemporary reports of his life and times exist to piece together some of his strange story, but much remains shrouded in mystery.
Popular journals reported that Santiago was born in 1786 to poor parents, but by a stroke of good fortune suddenly found himself at the peak of Manila society.
The 1836 edition of The Mirror of Literature, Amusement and Instruction went said he was "….a native of the Spanish settlement of Manila; in one of the forests of which, it seems, he was exposed to death in his infancy, on account of his diminutive size. He, was, however, miraculously saved by the Viceroy, who, happening to be hunting in that quarter, humanely ordered him to be taken care of and nursed with the same tenderness as his own children, with whom the little creature was brought up and educated, until he attained the age of manhood."
Not happy-ever-after for Don Santiago de los Santos
Unfortunately this wasn't happy-ever-after for the little chap. After his adoptive father died when he was 20, the rest of the family opted to return to Spain, while Santiago, decided to stay, due to his "attachment to the land of his birth."
Without care and protection of a family around him, his life began to unravel, and for unknown reasons he "found his way to Madras, and was brought to England by the captain of a trading vessel."
How he then ended up in a travelling show in partnership with Angelina Melius "the celebrated" American Giantess is anybody's guess, but from that time on his life and actions held the interest of an insatiably curious public.
Another article in The Mirror discussed some of Santiago's unique characteristics. He was described as "stoutly built" with "slight copper" complexion. He was also fond of "glittering attire, jewellery, and silver plate." It was also reported that he had a talent for languages, speaking his native tongue, Indian patois, Portuguese and English.
No barrier to love
His tiny stature didn't get in the way of finding love either.
According to a report in the medical journal The London Lancet, he married Anne Hopkins, a 29-year-old dwarf from Birmingham, in the England Midlands. She was slightly taller than him, standing at 3'2" to Santiago's 2'2".
However, the path of true love is never smooth, and the couple had difficulties arranging their big day. According to The Lancet of 1848, "..a protestant clergyman hesitated to marry them, on the presumption that it was contrary to the canon law, as being the means of propagating a race of dwarfs; but in this he was overruled by the high bailiff of Birmingham, and some legal opinions."
They were finally married on July 6, 1834 at two separate churches in Birmingham (Don Santiago de los Santos was a Roman Catholic while his wife was a Protestant).
It was reported that such huge crowds turned out for the weddings that police were needed to maintain order and keep open the couple's path into and out of the churches.
A comfortable life
Perhaps surprisingly, the couple were able to conceive a child but, sadly, it did not survive. The Lancet reported: "The infant, though it came to the world alive, did not survive its birth above an hour. Its length is 13 inches and a half; its weight is one pound four ounces and a half, it is in every respect well formed; and the likeness of its face to that of the father is very striking."
The next we know about little Santiago is a report of his comfortable and respectable home life in Birmingham. The Mirror reported: "His habits are moderate, and he seldom drinks anything but warm water; but, on his birthdays, wedding anniversaries, and other festivities, he indulges in a few glasses of wine; and indeed, on such occasions, he passes round the bottle, and does the other honours of the table with much dignity, hospitality, and éclat. He is fond of music and dancing, and is a great admirer of the ladies; but his ruling passion appears to be a fondness for gay and glittering attire, jewellery, and silver plate — to all which luxuries he has been accustomed in the house and at the table of the Viceroy of Manila."
A well connected man
Don Santiago de los Santos also appeared to have been well-connected with influential Spaniards in London. The Mirror reported: "Once or twice a month, he goes to the Spanish ambassador's Chapel, where, secluded from observation, he worships with all the sincerity and devotion of a good Catholic."
Whether his life in Birmingham was the end of his adventurous life is unknown. However, it would be nice to think that Don Santiago de los Santos lived out a long and pleasantly uneventful retirement with his wife, jewellery and silver plate.