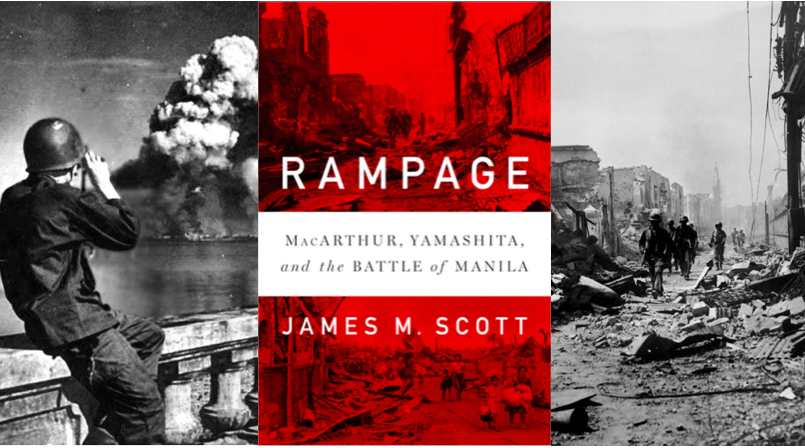 A new book has been published that reveals the full horror of the World War Two battle to liberate Manila from the Japanese.
In February 1945, Japanese troops committed one of the worst massacres of the war, slaughtering an estimated 100,000 Filipino men, women and children.
Author James M Scott said: "It is a story few people remember — but one I resurrect in my new book Rampage: MacArthur, Yamashita and the Battle of Manila.
"For the past four years, I have been examining the horror that befell the capital when trapped Japanese soldiers and marines carried out what war crimes investigators later described as 'an orgy of mass murder'."
The crimes committed during the 29-day battle included locking thousands of civilians inside homes and social halls before setting them on fire. Troops also raped women and tossed infants in the air, skewering them on the blades of their bayonets. 
In one of the more gruesome accounts, Japanese marines cut a hole in the second floor of a Manila home and then led blindfolded individuals upstairs, forced them to kneel, and decapitated them with swords. Two hundred men were said to have died in this way.
Mr Scott began his research at the National Archives in Washington, digitising thousands of victim affidavits. These statements, often recorded on deathbeds, were intended for potential use in war crimes trials. 
He said: "I digitised records at a rate of almost 4,000 pages a day. I ultimately created a database, logging the gruesome details of what each survivor endured.
"I married months of archival work with field research in the Philippines, interviewing survivors and visiting many of the 27 major atrocity sites in Manila in order to accurately recreate those scenes. 
"I walked the hallways of the University of Santo Tomas, where American internees starved to death at the rate of three to four a day before Sherman tanks broke down the gates and liberated the nearly 3,700 captives. 
"I peered into the dungeons of Fort Santiago, the infamous Japanese torture centre where American troops found hundreds of dead civilians stacked several deep.
"I likewise climbed the stairs and sat in the chapel of De La Salle College. There amid the pews where families had once celebrated baptisms and weddings, Japanese marines had slaughtered priests and even children."
Rampage: MacArthur, Yamashita and the Battle of Manila is published by W W Norton and costs $32.95 (hardcover). To order, visit the publisher's website.
Follow our Facebook page for daily updates
…