Jose Rizal was the national hero who gave his life for the cause of freedom. But how much do you know about this Filipino patriot?
At the age of 18, the national hero bought some hashish from a drugstore, which he sampled "in the name of science". At the time, the drug could be readily and legally purchased from pharmacists along with cocaine, morphine and heroin.
2. He hated the Chinese…
Other than campaigning against the Spanish, Rizal also fought against what he considered Chinese exploitation of his fellow Filipinos. He viewed the Chinese primarily as "unscrupulous traders and businessmen" who took advantage of his countrymen.
3. An early starter…
Rizal could write and read by the age of two. He wrote his first poem, 'Sa Aking Mga Kababata' (To My Fellow Youth), at the age of eight.
4. Travelling man…
Even by modern standards, Rizal was remarkably well travelled. During his lifetime he visited the United States, Spain, Great Britain, France, Austria, Germany, Belgium, Switzerland, the Czech Republic, Italy, Singapore, Borneo, Hong Kong, China and Japan.
5. All creatures great and small…
There are three species of animal named after Rizal: Apogonia Rizali (Heller), a type of small beetle; Draco Rizali (Wandolleck), a species of flying lizard; and Rachophorous Rizali (Boetger), a species of toad.
6. Physician, heal thyself…
Rizal somehow cured himself of tuberculosis (the exact facts of this claim are not clear). He was later acknowledged as an expert in the treatment of the disease.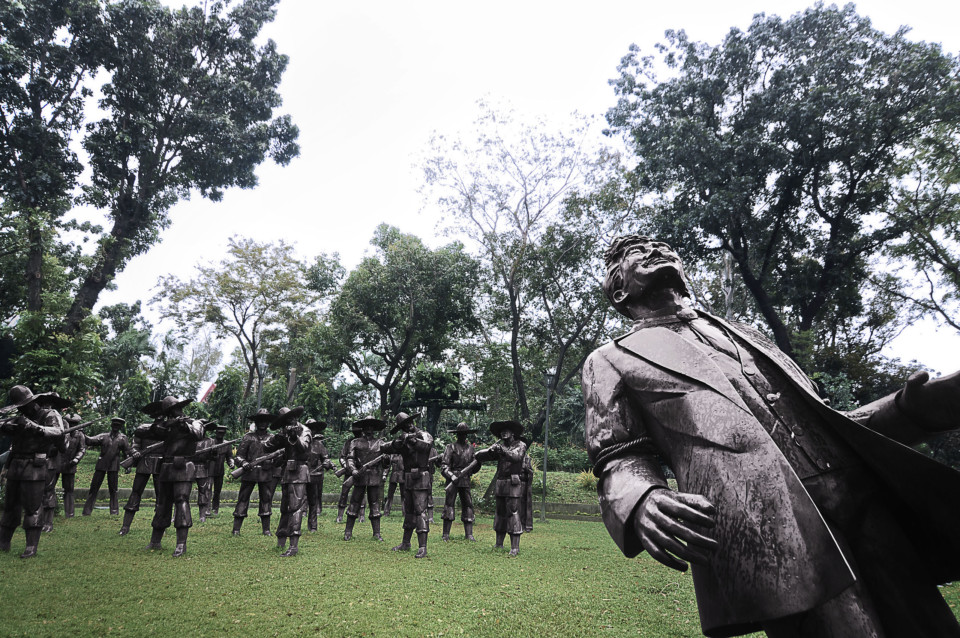 7. Renaissance man…
As well as being an (unqualified) medic, he was an anthropologist, ethnologist, economist, sociologist, educator, architect, engineer, sculptor, painter, playwright, novelist, historian, journalist, farmer, dramatist, ophthalmologist, martial artist and cartographer.
8. Speaking in tongues…
He mastered 22 languages: Hebrew, Filipino, Ilokano, Bisayan, Subanon, Chinese, Latin, Spanish, Greek, English, French, German, Arabic, Malay, Sanskrit, Dutch, Japanese, Catalan, Italian, Portugese, Swedish and Russian.
9. Braying ass…
By his own admission, about the only skill he didn't possess was in music, although he did write songs. He once wrote that his singing voice "sounded like the braying of an ass."
10. Hero worship…
A religious sect named the Rizalista – members of Cruzado, claims that Jose Rizal is the reincarnation of Jesus Christ. They believe his execution was just a single step closer to the presence of God. They also believe that he's still alive and living in the forest of Mount Makiling.
11. A death foretold?
In a diary entry he recorded a "frightful nightmare" he had on December 30, 1883. In this dream, Rizal saw himself as a "dying actor" and felt his "breath was failing". Rizal would be executed 13 years later on the same date.
12. Paranormal activity…
While in exile in Dapitan, Rizal wrote to a Jesuit priest about being haunted by a poltergeist. Rizal said that a number of household items had been broken by the supposed ghost. He wrote: "When Josephine asked the spirit what it wanted, all her cups, tea kettles, saucers, etc, fell down at the same time. All the boys and I saw it."
13. Magnet for conspiracists…
Among the tall tales about Rizal is that he was Hitler's father — even though he left Germany two years before the future dictator was born. More plausible, but only slightly so, is a theory that links him to the Jack the Ripper murders. Rizal was in London throughout the killer's reign of terror, and when he left they abruptly stopped. Most "ripperologists" agree that the killer must have had surgical skills, which certainly puts Rizal among the host of possible suspects.