THE prevailing view among many political commentators is that Trump's foreign policy is a disaster waiting to happen.
They like to portray him as a rampaging orange toddler throwing some very expensive toys from the national pram.
Already, he has offended China, stoked fear in Europe with his lukewarm support for NATO and is hardly Mr Popular in Latin America.
But in the case of the Philippines, could he be a president who rebuilds bridges burnt by his predecessor in the White House?
Last week, The Donald enjoyed a very friendly phone call with President Duterte. The seven-minute chat was described as "animated" and photographs have been released showing a beaming Rody cradling the receiver like a love-struck teenager.
Following the call, it was announced that the two leaders had exchanged invitations to visit and that Trump had offered supportive words for the president's deadly war on drugs.
The contrast with Duterte's recent relations with Barack "son of a bitch" Obama couldn't be clearer.
A statement released by the Malacañang on Saturday said: "Trump was quite sensitive also to our worry about drugs. And he wishes me well… in my campaign and he said that… we are doing it as a sovereign nation, the right way".
However, a similar statement released by team Trump failed to confirm this endorsement of the anti-drug campaign or the White House invitation. Rather, it said: "President Rodrigo Roa Duterte of the Philippines offered his congratulatory wishes to President-elect Trump.
"In their conversation, they noted the long history of friendship and cooperation between the two nations, and agreed that the two governments would continue to work together closely on matters of shared interest and concern".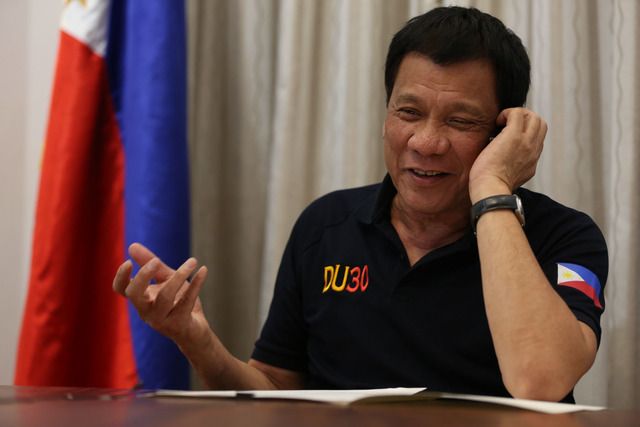 A Trump-Duterte friendship may concern some Americans and Filipinos, particularly those on the left, but will it be the beginning of a happier new chapter in relations between the two countries?
For example, in October, Duterte announced a "separation" from the United States and called for the withdrawal of American troops from the Philippines, putting into question a 70-year-old military alliance between the two countries. Whether this was merely an empty threat designed to needle Obama or a genuine realignment is a moot point, but either way it chimes closely with Trump's views on maintaining foreign bases.
During the election campaign, he said: "We have spent trillions of dollars over time — on planes, missiles, ships, equipment — building up our military to provide a strong defence for Europe and Asia. The countries we are defending must pay for the cost of this defence — and, if not, the US must be prepared to let these countries defend themselves."
New ambassador
Trump's chances of rebuilding the ties between the nations are likely to be boosted by the appointment of a new American ambassador to the Philippines, who presented his credentials to the president yesterday (Tuesday, December 6).
Sung Kim has replaced Ambassador Philip Goldberg, who has also felt the sharp side of the president's tongue. After criticising Duterte's attitude to women, the president shot back at the senior diplomat, calling him a "gay son of a bitch".
Mr Kim, on the other hand, reported having a "lengthy and substantive" talk with the president, and thanked him for his "warm welcome".
He said: "This important relationship is, of course, based on mutual respect. I am confident that our mutual respect combined with the close ties and shared history and values will ensure stability in our relationship over the long term and the years and decades to come."
The appointment has been hailed by Presidential Spokesman Ernesto Abella, who commended the USA for choosing a candidate with Asian roots.
Aside from matters of policy and diplomacy, it's difficult not to see personal similarities between the two. Both have seemingly been swept to power on a worldwide wave of populist politics, which some would classify as "us" and "them" divisiveness.
Duterte's "them" was the nation's drug users and pushers, while Trump's were immigrants, particularly Mexicans.
Both have been compared to Adolf Hitler, and neither seemed to mind too much. Admittedly, in Duterte's case, he compared himself to the Nazi leader, saying he'd be "happy to slaughter" three million drug addicts, likening his campaign to Hitler's efforts to exterminate Jews. Among those to compare Trump to Hitler have been the past and present presidents of Mexico, and pop singer Cher.
Puritanical streak
Both seem to possess a puritanical streak, and are avid anti-smokers. Trump is also a teetotaller, perhaps as a result of witnessing his alcoholic brother Freddy die aged 43 in 1981. (However, this did not stop him launching his own brand of vodka in 2006). In Duterte's case, his inauguration ceremony was a "dry" event, and his opinions on public drinking are well known.
On the drugs issue, there does seem to be more space between them, although it's difficult to discern exactly where Trump's opinions lie. In the past, he has been reported as saying: "We're losing badly the war on drugs. You have to legalise drugs to win that war." He also favours rehabilitation over Duterte's more "decisive" policy, saying: "We're going to help addicts. We're going to try and make them better, and we will make them better".
Whether his views have hardened in the meantime is anybody's guess, but it's unlikely their divergence of opinion on drug "treatment" will drive a wedge between them.
So, amid the widespread concern over the direction the two leaders seem to taking, could even the most ardently left-wing observer take some comfort in the potential of this new relationship?
Will it translate into more relaxed visa regimes in both directions? Will US investment flow into the Philippines, while opportunities grow for Filipino workers Stateside?
Could it really be the beginning of a beautiful friendship?