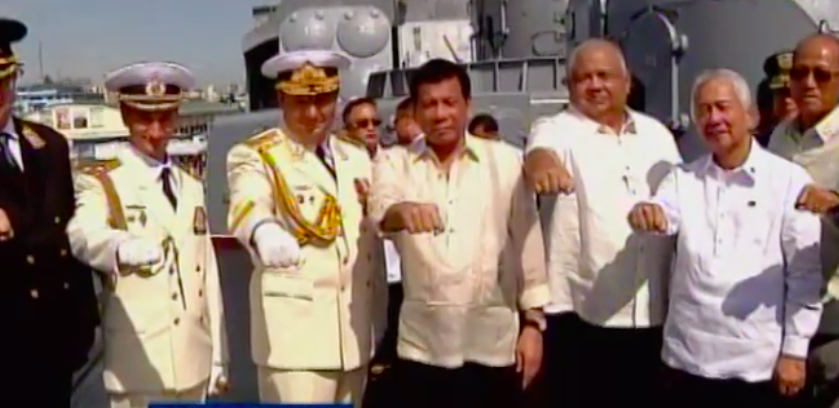 Many analysts have seen China's rapidly growing naval power as a sign that Australia needs to rethink its defence strategy in the Asia-Pacific region. Indeed, China has made remarkable strides in building up its defence capability. But it is worth noting that another military power is increasingly making its presence felt in our region – Russia.
The Coalition government does not give Russia much consideration at all in its current strategic planning. None of the recent Australian defence white papers, including the 2016 paper, considered Russia a significant military power. This perception stems from post-Cold War assumptions that Moscow has little political influence due to its reduced military power and limited economic engagement with our region.
Perhaps these assumptions were true in the 1990s or even ten years ago. However, current strategic realities are very different.
Putin's game plan for military prowess
In the 2000s, Russia's military began to gradually rebuild its combat potential. Under President Vladimir Putin's leadership, the once cash-strapped military force received a massive financial boost and, more importantly, full political support.
After years of decline and neglect, Russian military power in the Asia-Pacific region is making a major leap forward. According to my research, Russian air force units deployed to East Asia received some 300 new upgraded aircraft from 2013-18. This is about equal to the total strength of the current Royal Australian Air Force.
By 2019, the Russian Eastern Military District (the military arm responsible for operations across the Pacific) is expected to receive more than 6,240 pieces of new and upgraded military equipment. This will include battle tanks, missiles and heavy artillery, aircraft, electronic warfare systems and more.
The Russian Pacific Fleet, the main means for Russia to exert power in the region, is expected to receive some 70 new warships by 2026. This will include 11 nuclear-powered and diesel-electric submarines, and 19 new surface warships – nearly the same number Australia is planning to add over the coming decade.
Russia is also increasingly showcasing this new-found military power in the region.
From late August to mid-September, the Russian military carried out the largest single show of its military power in 37 years, the Vostok 2018 war games. According to the Russian Ministry of Defence, the war games involved 297,000 personnel, more than 1,000 aircraft and 80 warships. A sequence of large-scale exercises was held across eastern Siberia, the Russian Far East and parts of the Arctic. The maritime component was staged in the Okhotsk and Bering seas on Russia's Pacific coast.
Condemned by NATO as a rehearsal for "large scale conflict", the war games signalled that Russia's military is prepared for possible confrontation in the Asia-Pacific region. This reinforces what many analysts believe is Putin's intention – to reassert Russia's status as a global power.
Russia's 'soft' military power on the rise
Russia also continues to be a key provider of advanced military technology in the Asia-Pacific region. Last year, Russia supplied 52 countries globally with US$45 billion worth of arms – making it the world's second-biggest arms supplier, behind the US. Over 60% of Russian arms exports go to Asian countries, with Southeast Asia accounting for most of that total.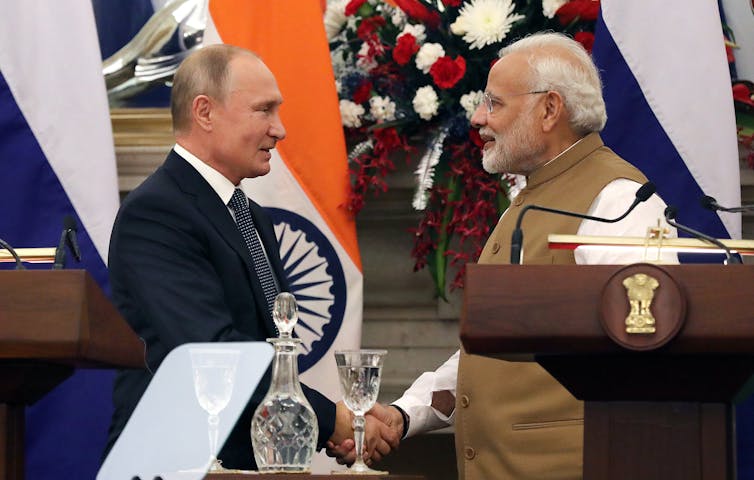 The Russian military is making its presence felt. This month alone, the Russian army staged joint exercises with Pakistan, while Russian warships were operating in the Indian and Pacific oceans.
Through these arms sales and joint activities, Russia is increasingly bringing Asian countries into its orbit and altering the balance of power in the region by increasing their military capabilities.
In addition to existing security and defence relationships with China, India and more recently Pakistan, Russia has been actively seeking to build ties with other countries on Australia's doorstep – Indonesia, Malaysia, Myanmar, the Philippines, Thailand and Fiji.
Australia should closely follow Moscow's growing strategic intimacy with Beijing. In contrast with Western countries, Russia has been willing to share its military expertise with China. And China has taken up the offer. The PLA, for instance, took part in the Vostok 2018 war games under Russia's command.
Russian activities in and around Australia
Finally, we should not be ignorant of Russia's activities in Australia and near our shores, which have intensified in recent years.
In 2009, Australian intelligence reported a sharp increase in Russian intelligence-gathering activities in Australia. Russia continues to have an interest in Australia's national intelligence, especially highly sensitive information shared by the US and its NATO allies.
In November 2014, a Russian naval task group staged operations near Australia's north at the same time Putin attended the G-20 summmit in Brisbane. This triggered a brief media storm, and was seen by some as a projection of Russia's naval power.
Last December, Russian strategic bombers conducted exercises out of an Indonesian airfield close to Australia, forcing Australian Defence personnel in Darwin into a state of "increased readiness". There were concerns the exercises may have been aimed at information gathering.
Then in March, two "undeclared intelligence officers" were expelled from the Russian embassy in Canberra, raising more questions about Russian covert activities in Australia. Two months later, a Russian training warship visited Papua New Guinea – the first visit of its kind for the Russian navy.
Australia-Russia relations at a low point
Russia is making its presence felt in the region for the benefit of its regional allies and clients, and as a form of deterrent to its geopolitical rivals.
Australia's strategic alliance with the US is clearly on Moscow's radar. Russia has a keen interest in our joint defence facilities and intelligence sharing, as well as our latest defence technology and operations.
Australia's hard stance on issues related to Russia, such as Moscow's annexation of Crimea, the downing of Malaysia Airlines flight MH17, Russia's involvement in the Syrian conflict and the attempted assassination of former double agent Sergei Skripal in the UK, further complicates our relations with Moscow.
In October, Canberra also joined London in condemning the Russian military for its ongoing cyber-operations against the West, including Australia.
Australia's relations with Moscow are at their lowest point in decades. And while Australia is by no means a priority for Russia, the country is still being viewed as a geopolitical and security rival. The time has come for us to appreciate a power north of the Great Wall, as well.

Alexey D Muraviev is Associate Professor of National Security and Strategic Studies at Curtin University
This article was originally published on The Conversation.