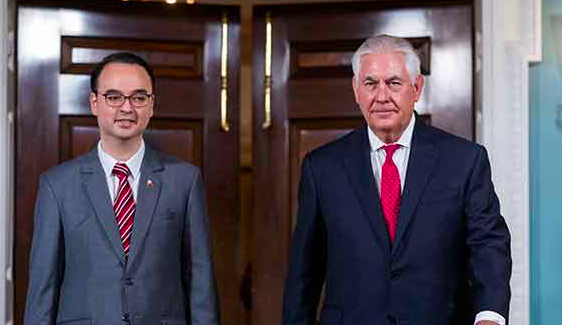 The US has thanked the Philippines for its "strong leadership" in opposing North Korea's nuclear and missile programmes.
A statement issued by the US State Department on Thursday  (December 28) said Secretary of State Rex Tillerson thanked Secretary of Foreign Affairs Alan Peter Cayetano for his support during a telephone call last week.
The statement also said that Tillerson pledged continued US support for stabilisation efforts in battle-scarred Marawi City and other counterterrorism operations.
"The Secretary thanked Secretary of Foreign Affairs Cayetano for the Philippines' strong leadership in opposing the Democratic People's Republic of Korea's unlawful nuclear and missile programmes, particularly in its role as 2017 Association of Southeast Nations Chair (Asean)," the statement said.
"Both sides agreed to work to increase bilateral cooperation under the US-Philippines alliance on these and other pressing issues in 2018."
Last week, the UN Security Council unanimously approved tough new sanctions against North Korea in response to its latest launch of a ballistic missile. Pyongyang claims its latest missile can reach anywhere on the US mainland.
The resolution was drafted by the US and negotiated with North Korea's closest ally, China.
In response, Pyongyang described the sanctions "an act of war" that violated its sovereignty. It added that it was a "pipe dream" for the US to think it would give up its nuclear weapon programme.
Last month, President Duterte, who is this year's Asean chairman, condemned North Korea's nuclear ambitions and baked Japan's moves to bolster its defences.
During a speech on the matter, the straight-talking president called North Korean leader Kim Jong Un a "chubby son-of-a-whore maniac". He also described him as a "nutcase" playing with "dangerous toys".
At the Asean Regional Forum in Manila this August, North Korean Foreign Minister Ri Yong-Ho said Washington's hostile policy towards Pyongyang was the root cause of the tensions.
Ri also stressed that North Korea's possession of nuclear weapons was a reasonable deterrence to see off the threat of invasion by the US.