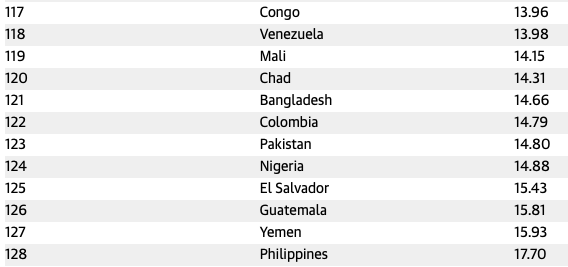 A global study of safety has named the Philippines as the most dangerous country in the world — even ranking below war-torn Yemen.
The Safety Index Score published by Global Finance Magazine considers war and peace, crime rates and the risk of natural disasters in reaching its conclusions.
Explaining why it had placed the Philippines below Yemen, the magazine said: "The safety score for countries equally weighs each of the three factors: war and peace, personal security, and natural disaster risk. The safety score aggregates the indices from these three risks, thus presenting a comprehensive view of safety for each country. 
"This also means that a high level of risk in one factor will have limited effect on the country's overall ranking. 
"For example, the Philippines is ranked least safe while Yemen is ranked second least safe. This can be attributed to the fact that the Philippines has poor scores in peace, security, and prevalence of natural disasters. 
"Yemen's terrible score is due to war and famine but the country has a very low risk of natural disaster. Thus, the Philippines ranks lower than Yemen even though Yemen is a war zone."
At the other end of the scale was Iceland, due to the minuscule crime rate among its 400,000 inhabitants. Even though the country contains active volcanos, these are considered to be a low risk to life.
The top of the list is dominated by European countries with developed economies and healthcare systems. 
The only non-European nations to make the top 20 were Qatar, Singapore, New Zealand and Canada. 
Although economic development was generally seen to go hand-in-hand with safety, there were some exceptions.
The US, for example, ranks almost exactly in the middle of the list at 65th. This is down to higher risk of homicide. The US also has a slightly higher risk of natural disaster due to its sheer size. 
The US is not alone among economically developed countries with middling scores — Japan ranks 43rd, largely due to its high risk of natural disaster and the UK was placed 38th, trailing countries including Romania and Kuwait.
Global Finance Magazine included 128 of the 193 states recognised by the UN on its list, with notable (and unexplained) absences including Syria, Iraq and Afghanistan.
The magazine said it used data from the World Economic Forum and the Global Institute for Peace to create the list.
Follow our Facebook page for daily news updates
…