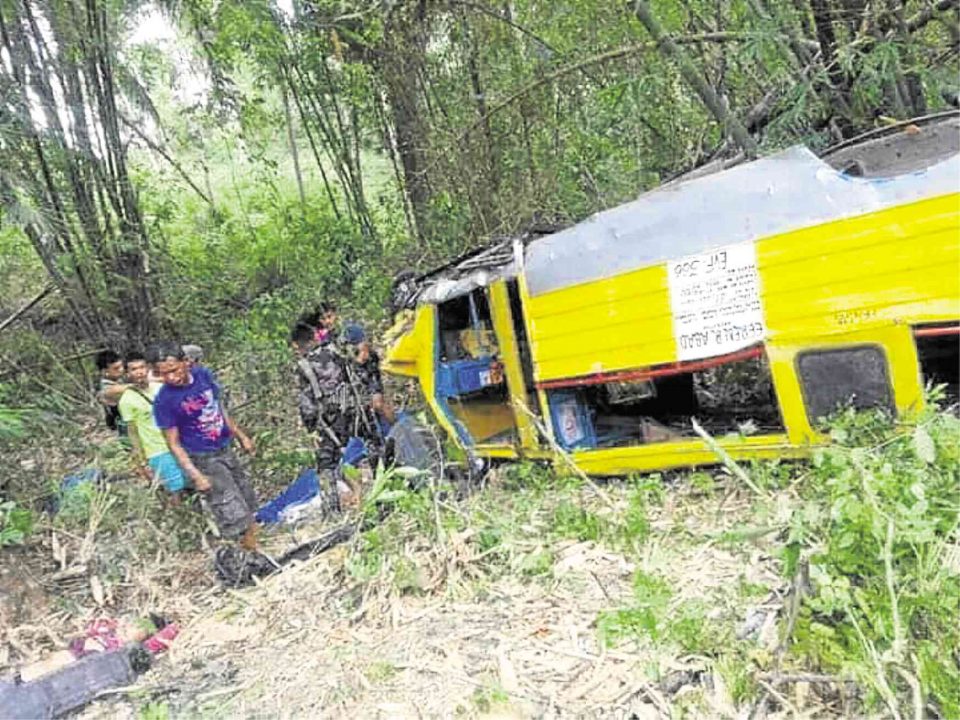 Ten people are dead and at least 18 injured after a jeepney with faulty brakes plunged into a ravine in Albay province.
The accident occurred in Libon Town at about 3pm yesterday (Tuesday, May 21) police have confirmed today.
Major Maria Luisa Calubaquib, spokeswoman for the Bicol Police Regional Office, said the jeepney was carrying 30 passengers when its driver, Rolando Olade, lost control of the steering wheel after the vehicle's brakes malfunctioned.
The jeepney was negotiating a curve in Barangay San Jose when it careered off the road. The driver fled the scene, despite being injured. He has since been arrested and remains in police custody. He faces charges of "reckless imprudence resulting in multiple homicide" and damage to property.
The injured passengers are now being treated at Pantao District Hospital.
Trike collision
Also yesterday, three passengers died while three others were seriously injured when a trike was in collision with a car in Tubod, Lanao del Norte.
Tubod police chief Major Rodolfo Dongiapon said that a toyota Sedan was travelling towards Kolambugan when it collided with the tricycle at about 3.30pm. The tricycle then span out of control and hit an oncoming Nissan pick-up, throwing out all six passengers into the road.
The driver of the Toyota then fled by jumping into another vehicle, leaving his car at the scene of the collision. 
The owner of the vehicle has since been identified based on its licence plate. However, as the registered owner is from Quezon City, police are now investigating whether the car was stolen.
The driver of the blue Nissan is being interviewed by police.
Another day of carnage
On Friday last week, we reported on another day of carnage on the roads of the philippines.
At least eight were killed and several others injured when a passenger van and truck collided in Babatngon, Leyte.
On the same day, two women were killed when a passenger bus was in collision with a motorcycle in Argao, southern Cebu.
Follow our Facebook page for daily news updates
…