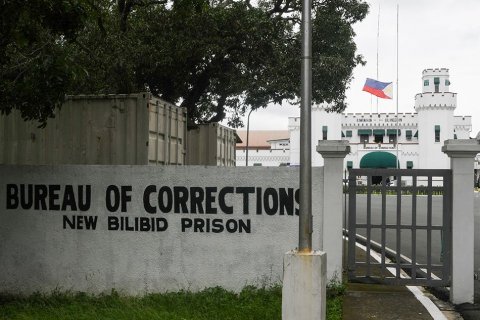 Former BuCor chief exposed the different rackets or "money-making" scheme inside the New Bilibid Prison (NBP) on Senate hearing, Thursday.
Ex-Bureau of Corrections (BuCor) chief officer-in-charge Rafael Ragos said that high-profile inmates were able to enjoy privileges inside NBP.
"Sa loob ng maximum [security compound], maraming unusual transactions regarding money-making," said Ragos.
(There are many unusual money-making transactions inside the maximum security compound.)
Ragos also testified against Senator Leila de Lima (currently detained over drug charges).
"Tilapia" costs 30k inside Bilibid
Ragos referred to female entertainers as "tilapia." He said that corrupt corrections officers allow female dancers to enter NBP to entertain high-profile inmates for P30,000 a night.
"For example, 'yung tilapia nakakapagpasok sila diyan. [Ang tilapia] Babae. Para sa mga high-profile, magpapasok ng babae tapos 'yun ang ginagamit nang mga high-profile. Nag e-enjoy sila sa mga babae," he told Sen. Panfilo Lacson.
(For example, 'tilapia' can enter. 'Tilapia' is woman. The allow women inside for the high-profile inmates. They enjoy women.)
Ragos added that the entertainer would even sometimes end up as girlfriends or even wives of the prisoners.
"Usually napapalusot 'yan ng mga guards eh," he said.
(They would usually bribe the guards).
The ex-BuCor chief admitted that there were times BuCor officials allow female entertainers to enter NBP to address the inmates' "physiological needs."
He also said even foreign female entertainers were allowed to stay inside the prison for days.
Ragos said Peter Co, a convicted drug lord was one of the most frequently high-profile inmates visited by a female entertainer.
"Kidnap for ransom" racket
Another money-making venture inside Bilibid was kidnap-for-ransom activities. Cops who conspired with convicts inside NBP would kidnap a high-profile inmate's wife. They would only release the wife after the high-profile inmate pays P200,000 or more ransom.
"Ang negotiation nasa loob for release," Ragos said.
(Negotiation for release all happened inside.)
24-hour gambling operations
Ragos also revealed the gambling operations inside the prison.
"May isang building dun, halos 24 hours ang sugalan nila dun. Marami kasing pera sa loob eh," he said.
(There was one building there used for 24-hour gambling operations. There are lots of money inside the prison."
Ragos also said that convicted drug lord Amin Boratong tried to give him a ring which costs P600,000 when he was appointed as the BuCor chief.
He also revealed that during his time, a friend would give P800,000 a month for BuCor chief's office.