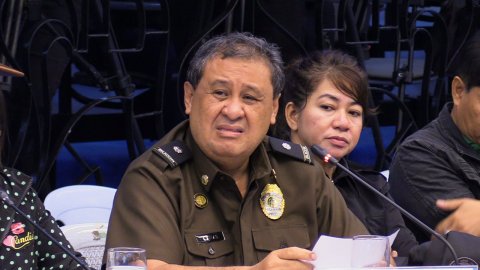 Convicted mayor accused BuCor Doctor Ursicio Cenas of receiving bribe money from him and drug lords to stay in New Bilibid Prison's hospital.
An inmate and former Bukidnon Mayor Jose Galario Jr. and daughter Griezl Fernandez testified in the Senate hearing.
Galario said they gave P8,000 to Cenas while he was in the hospital. He gave another P8,000 for faster processing of his medical abstract.
"Kukunin niya, ilalagay niya sa kanyang drawer," Galario said.
(He would take it and put it in his drawer.)
"Kasi kung hindi siya corrupt, si Doctor Cenas, hindi niya tatanggapin yun," Galario added.
(If Doctor Cenas is not a corrupt official, he will not accept it.)
BuCor Doctor Cenas receives bribe money to give prescription
Fernandez said she gave P1,000 Cenas several times to ask for prescriptions so they can bring their medicines inside NBP.
"Naglagay kami ng P1,000 dun sa bond paper, tapos pagpunta ko dun kay Cenas, sabi ko: 'Doc, bigay ni Papa.' Yun, maganda 'yung mood niya," Fernandez said of her first visit to the doctor.
(We put P1,000 inside the bond paper. Then when I went to Cenas, I said:'Doc, Papa gave this to you.' His mood lightens up.)
Cenas denied the allegations but he failed to convince the senators so Sen. Ronald dela Rosa filed a motion to cite Cenas in contempt.
"Your honor, not true," Cenas said when Senator Christopher "Bong" Go asked if he had indeed received money from inmates, who were allegedly faking their illnesses.
Galario also exposed that drug lords use ward 3 in Bilibid as their communication center.
He said an inmate could not stay inside the hospital if the physician on duty does not approve it.
He identified a "Boy Buwaya" (Crocodile Boy) who uses Medical Ward 3 as a communication center for drug operations.