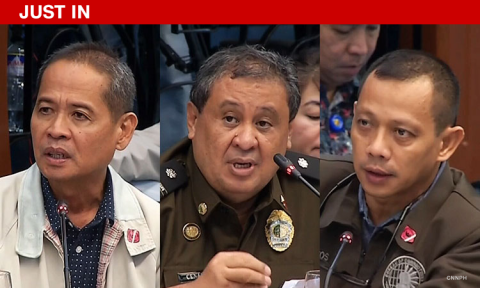 The Senate panel on Thursday cited three BuCor Officials in contempt for evading questions from the Senators.
Senate justice and human rights committee held Hospital Technical Chief Inspector Dr. Ursicio Cenas, BuCor legal chief Fredric Santos at BuCor documents and records chief Ramoncito Roque in contempt.
Senator Richard Gordon, senate committee chair ordered to detain the three BuCor Officials until they give acceptable and clear answers.
Santos and Roque were currently on a six-month preventive suspension over the controversial good conduct time allowance (GCTA) law implementation.
Roque was accused of bilking inmate's relatives for their early release while Santos allegedly receives bribe money so inmates can stay longer in the prison's hospital.
"Because of the contempt motion that has been unanimously approved without objection, the chair orders the confinement of the three individuals until they are able to satisfactorily explain to the Senate why they're needed of confinement under contempt should be discontinued," Gordon said.
According to Senator Panfilo Lacson, it was "about time the committee put its foot down on these people."
"'Di makasagot nang diretso. Parang we are being lied to each time we conduct a hearing. It's about time the committee put its foot down on these people. Kung hindi, paglalaruan lang ang aming committee hearings," Lacson told reporters.
(They can't give straight answers. It seemed we are being lied to each time we conduct a hearing. It's about time the committee put its foot down on these people. If not, they will just play our committee hearings.)