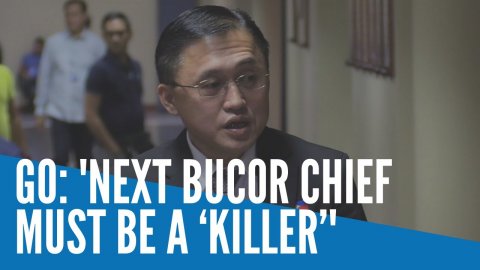 Sen. Christopher "Bong" Go said he recommends a "killer" to replace Faeldon as Bureau of Corrections (BuCor) chief, Wednesday.
"Basta ako nirerecommend ko kay Pangulo [na] mamuno dyan sa BuCor, killer. Ang mamumuno ng BuCor dapat killer," Go told reporters.
(As for me I recommend to the President a killer to lead the BuCor. A killer should lead the BuCor.)
Go said he had some people in mind, who are retired, uniformed officials. However, he did not drop any names or further details about his recommendation.
"Former military o kaya pulis, basta killer," he said.
(It can be former military or police, should be a killer.)
Senator Bong Go's statements were related to the good conduct time allowance (GCTA) law controversies and investigations. The law can release inmates who showed good behavior while in prison.
BuCor and GCTA controversy continues to get messy
The GCTA law started to make headlines when the convicted rapist-killer and ex-mayor Antonio Sanchez was supposed to be released for good behavior. Sanchez was found guilty of raping and murdering UPLB student Eileen Sarmienta and Allan Gomez in 1993. President Duterte stopped his release amid a public outcry for justice.
By the end of August, sacked BuCor Chief Nicanor Faeldon confirmed that the Chiong sisters' rapist-killers had been released under the GCTA law. The three released convicts were among the seven (7) convicted in May 1999 for kidnapping, raping and killing the Chiong sisters on July 16, 1997, in Cebu City. Aznar was from a prominent family in Cebu while Balansag was the conductor and Caño was the van driver.
On September 3, it reports said Presidential Spokesperson Salvador Panelo referred Sanchez's executive clemency but still denied any involvement with the case.
On September 4, President Duterte fired Faeldon and ordered all released heinous crime convicts to surrender or else they will be treated as fugitives.
Just this Wednesday, Documents obtained by the senate showed plunder convict Janet Lim Napoles had been released from rape sentence and on good behavior.
Yesterday, former BuCor chief Rafael Ragos exposed rackets in New Bilibid Prison including female entertainers, kidnapping, and gambling activities.