UnionBank and Cebu Pacific have joined forces to come up with a new fleet of cards with a whole lot of features that you will certainly love. As the credit card market gets more competitive, you can expect to reap the benefits.
The Pacific GetGo Platinum Card offers a 10% discount on points when you are booking flights using GetGo. It also helps you enjoy cashless payments using Visa both abroad and locally. This is clearly the right card for a frequent flier.
The application process is also very simple, and all you need to do is log into the UnionBank website, and choose the card you wish to be applying for. The next step will be to fill in their online application form.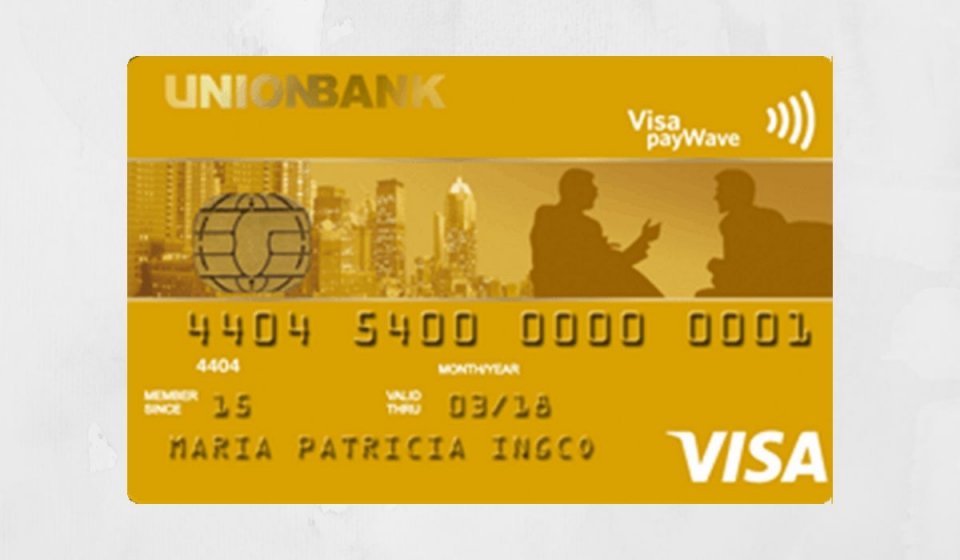 Card Overview
Customer type – The card is only applicable to Filipino Residents.
For you to become eligible for this card, you should be employed. You could either work for the government or in the private sector or be self-employed.
Annual income – The minimum annual income to qualify should be approximately PHP 1,200,000 and you must between the ages of 18 and 60 years.
The annual card fee is PHP 5,000.
You have access to a cash advance, and the fee for the advance is charged at 6%, or PHP 300, whichever one is higher.
Additionally, you will be charged PHP 500 if you do a transaction over the counter.
Late payment fee – There is a charge of PHP 750 for any late payments.
Card replacement fee – A charge of PHP 400 PER CARD.
Over the limit fee – There is a charge of PHP 500 for any over the limit expenses on the card.
Card Benefits
Cashless Transactions While Abroad
When you travel, you do not need to worry about transacting with a different currency. You don't have to do that. This card is accepted in most places, and you can shop conveniently and hassle-free especially when you are away from home.
First-Class Treatment
The GetGo Platinum Visa card gives you exclusive access to priority check-ins at select terminals, an additional 5KG, free baggage allowance, and complimentary airport lounges access at the Skyview Lounge terminal 3 at NAIA.
You can also access the Davao International Airport's MIASCOR Lounge. Additionally, you get free travel insurance. This is clearly a sweet deal for people who travel constantly.
Extended Visa Rewards
All Platinum cardholders will receive extended benefits and privileges on their Visa cards, such as the 24-hour Visa concierge service that ranges from restaurant recommendations and flight reservations.
You will also have access to global customer assistance in case of card loss, or your account being blocked or you need your card to be replaced and sent to you wherever you are, with some emergency cash.
There are plenty of discounts for car rentals, and hotel bookings as well for cardholders, not to mention the benefit of an extended global acceptance of the card wherever you are and access to ATM withdrawals.
Alerts And Promotions
You can make the card's travel reward programs more worthwhile with the exclusive notices they offer on seat sales and sales to your favorite international and local destinations.
If you have the GetGo Visa card, you will instantly receive special flights with the points you earn. Plus, when you travel, you get to earn more points.
There are also plenty of existing promos with a list of merchants who have partnered with GetGo and UnionBank, which can earn you points.
Instant Point System
All Platinum cardholders get enrolled in the GetGo program immediately where they start to earn points from all purchases made with the card. This includes paying for flights or spending it at the approved merchant partners.
They have combined the GetGo program with all of the new cards. You can also enjoy earning points from Cebu Pacific flights as well.
They have one of the best earning rates in the market. For each P30 you spend on the card, you will earn 1 GetGo point. the points are usually credited directly on to your GetGo account.
Converting these points is also very easy with Visa Cards. One of the best ways is to convert the points is into flights, which means you may end up flying for free.
As a new cardholder, when you apply for the platinum card, you will get 8,000 points after spending PHP 20,000 within the first 65 days of approval. These are special promo points that you can convert into flyer miles.
Contact UnionBank
If you would like to learn more about this offer, you can contact UnionBank directly at (+632)8-841-8600. Alternatively, you can visit their main office at Plaza Meralco Ave cor. Onyx and Sapphire Rds, Ortigas Center, Pasig, Philippines.
You could also send them an email at customer service@unionbankph.com.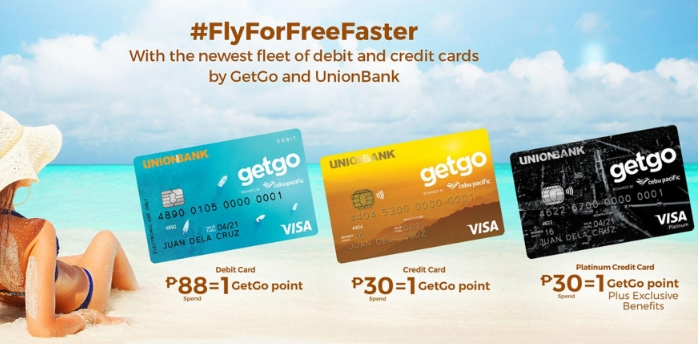 Conclusion
This is a great card, especially for people who fly frequently. Although you must follow the terms and conditions of the Unionbank, they still have great rates and simple requirements.
Note: There are risks involved when applying for and using credit. Consult the bank's terms and conditions page for more information.