The Philippines has replaced Brazil as the world's deadliest country for people protecting their land and environment from exploitation.
At least 164 farmers and land rights activists were killed worldwide last year — 30 of them in the Philippines — according to UK-based campaign group Global Witness.
Across 19 countries surveyed, mining was linked to 43 deaths, with fatal attacks also recorded at hydropower projects and in disputes involving agribusiness and logging companies.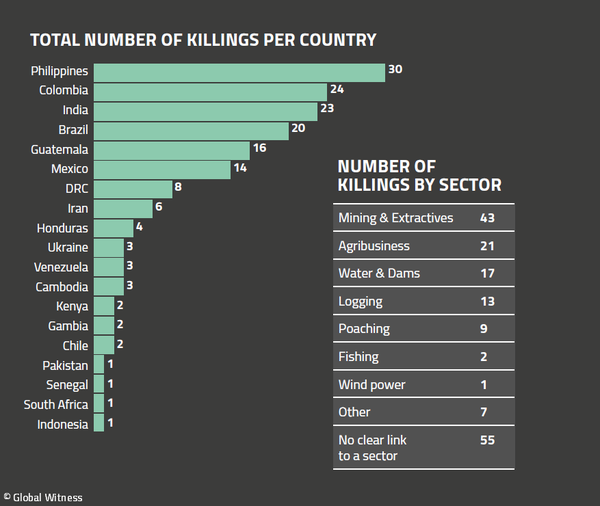 "Much of the persecution of land defenders is being driven by demand for the land and raw materials needed for products we consume every day, from food to mobile phones to jewellery," said Alice Harrison, a campaigner at Global Witness.
"This trend only looks set to worsen as strongmen politicians around the world are stripping away environmental and human rights protections to promote business at any cost."
Following the Philippines were Colombia with 24 killings, India with 23 and Brazil with 20.
Reacting to the report today (Tuesday, July 30), presidential spokesman Salvador Panelo said: "Well, that happens. If there are conflicts among claimants of a particular land, killings occur because of the viciousness of the rivalry between the claimants.
"Let me tell you that the government will always be concerned with respect to any violence inflicted against the citizens of this country, whether done by outside forces or by those inside this country."
According to former Agrarian Reform Secretary Rafael Mariano, a total of 177 farmers have been killed since President Duterte was elected in July 2016. Some human rights groups put the overall figure at nearly 300.
Cristina Palabay, secretary general of land rights group Karapatan, said: "The Duterte regime's intensified militarisation of communities has had catastrophic effects.
"The expanded power given to the police and the military has suppressed dissent and promoted threats, harassment and attacks against activists and human rights defenders."
As we reported earlier this month, the UN's human rights agency passed a resolution to investigate the killings linked to the president's war on drugs.
Previously, Mr Panelo has called this resolution "grotesquely one-sided, outrageously narrow, and maliciously partisan".
Follow our Facebook page for daily news updates
…