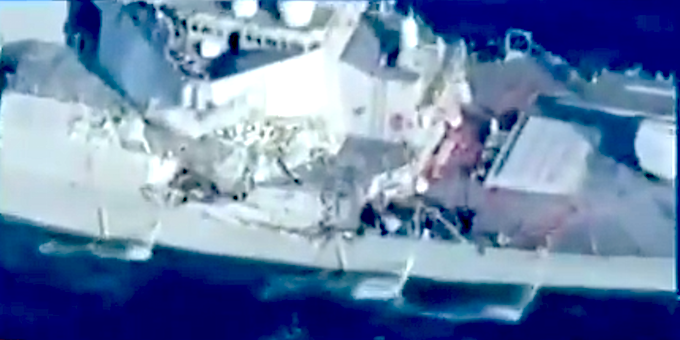 Seven sailors are missing and at least three, including the captain, injured after a US Navy destroyer collided with a Filipino merchant ship off the coast of Japan early this morning (Saturday, June 17).
Footage from the Japanese TV network NHK showed severe damage to the USS Fitzgerald and a person in a stretcher being lifted to a helicopter.
The ship's Commander Bryce Benson was taken to the US Naval Hospital in Yokosuka and was in stable condition, the US 7th Fleet said in a statement.
"Two sailors, in addition to the commanding officer, have been medically evacuated from USS Fitzgerald to US Naval Hospital Yokosuka for lacerations and bruises," it added.
"There are seven sailors unaccounted for; the ship and the Japanese Coast Guard continues to search for them."
The Fitzgerald began limping back to port at a slow speed, with limited propulsion after suffering damage on the starboard side below the water line that caused flooding in three compartments.
It is not yet known what caused the night-time collision between the ships.
The Navy, Japanese maritime defence vessels and the coast guard were working to stabilise the destroyer as it headed to shore, Navy chief Admiral John Richardson said.
The Navy said that the collision occurred 56 nautical miles southwest of Yokosuka, which is the home port of the 7th Fleet.
Footage showed the damaged ship moving slowly in calm seas, flanked by a tugboat.
"Right now we are focused on two things: the safety of the ship and the well-being of the sailors," Admiral Scott Swift, commander of the US Pacific Fleet, said.
The Japanese coast guard said it received an emergency call from Philippine-registered container ship ACX Crystal in the early hours of the morning that it had collided with the Fitzgerald.
The fleet said the USS Dewey, medical assistance, Navy tugs and naval aircraft have been dispatched.
The Japan coast guard dispatched five patrol ships and an aircraft carrying medics to the site for search and rescue operations.
The Navy's Pacific Fleet said the extent of damage to the Fitzgerald was being determined and the incident was under investigation.
Robespierre Bolivar, spokesman of the Philippines' Department of Foreign Affairs, said: "The department is closely monitoring reports of the collision that occurred early this morning between a Philippine-flagged merchant vessel and US naval vessel near Yokosuka, Japan.
"We are coordinating with the relevant authorities including the governments of the US and Japan to determine exactly the extent of damage and the number of casualties, especially if any Filipino nationals are involved."