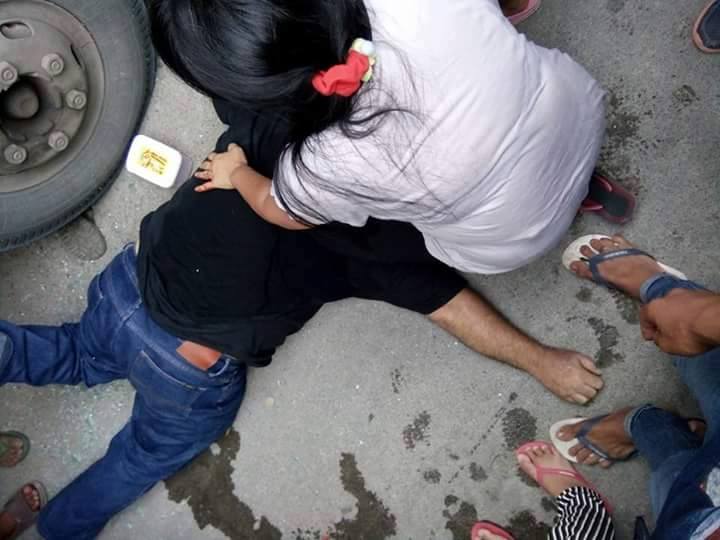 A 60-year-old US Army veteran has been shot dead by suspected thieves in Pikit, Cotabato.
Michael Keith was with his wife and two children when the gunmen struck as he was going about his business delivering cookies and candies to a shop.
The motorcycle riding killers struck at 2.30pm yesterday (Sunday, October 29) in Barangay Poblacion after Mr Keith pulled up in his delivery truck.
According to a report on Dxnd Radyo Bida 747 Kidapawan City, after he was gunned down, the gunmen took his sling bag, which contained about 200,000 pesos and other valuables before making their escape.
His wife, Melodina, and children were terrified but unharmed and were with Mr Keith when he was pronounced dead at the Cruzado Medical Clinic Hospital.
The murder of Mr Keith, who lived with his family in Pagadian City, is the second killing of a foreigner in Cotabato this week.
Last Tuesday, October 24, Pakistani money lender Ehtesham Ul Haq was shot dead while collecting payments in Barangay Dalingaoen. The attackers made off with his bag, which contained 12,000 pesos.
Superintendent Bernard Tayong, spokesman of the North Cotabato police office, said Pikit Mayor Sultan Sumulong has requested military and police reinforcements in the town in the light of the shootings.
Investigations are continuing to determine whether the two shootings were committed by the same gang.
So far, one suspect in the killing of Ul Haq has been arrested. Landoni Kasultan was shot and injured during a shootout with police.
Earlier this year we reported on another spate of foreigners being gunned down on the island of Biliran. In July, New Zealander Simon Rawlinson, aged 63, was gunned down by assassins. As PLN exclusively revealed, he had been embroiled in legal disputes with local government figures.
Prior to this, in June 2016, 74-year-old Henk Nuits, a Dutch businessman, was shot dead by a pillion rider. His 11-year-old son, Jake Henry, was shot in the chest but survived.
Then, in March this year, former US Marine Harvey Abrams was also shot by motorcycle-riding assassins.
So far, no arrests have been reported in any of the cases.